The women's razor is indispensable in most households. Hardly anyone renounces it. More than 93% of women (according to Statista) shave their legs. Under the armpits it is even 97% of the women. Although the hair-free experience with a razor is of relatively short duration, shaving is considered the most popular hair removal method. Who would like to do without the fast dulling disposable razors, can have a look at some of the very cheap electric lady shavers. Most models come with a large scope of delivery and the blades of the electric shavers last many times longer than those of the simple disposable razor.
1. Important Equipment Details
1.1 Wet & Dry Application
The type of use is an important point to pay attention to when buying a suitable lady shaver. Many models can be used under the shower or in the bathtub. However, this is not possible with some cable operated models. Tests by various institutions have shown that this is possible: Shaving in the shower is most effective with wet skin. Therefore, wet application should be an important factor when making a purchase decision.
1.2 Cable or Battery Operation
High-quality lady shavers have an integrated rechargeable battery, which is designed for operating times of up to one hour. An existing mains operation can also be useful if the battery is completely discharged. However, some models also use simple AA batteries for operation, which can be useful when travelling. For the environment and your wallet, it is recommended to use an integrated rechargeable battery.
1.3 The Shaving Head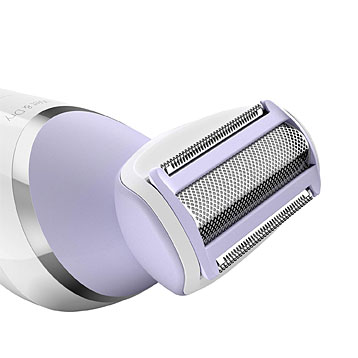 An important point to consider when purchasing a lady shaver is the shaving head and foil. Care should be taken to ensure that the head adapts to the skin conditions. This is realized by a movable shaving head or a spring-loaded shaving foil. If possible, a rigid shaving head should not be used. In difficult areas of the body, a good shaving result is difficult to achieve.
1.4 Scope of Delivery
The scope of delivery is a big advantage compared to the commercially available disposable wet razors. Here, there are often helpful attachments for particularly good gliding or comb attachments, with which some sensitive body parts are only trimmed, instead of shaved. Some lady shavers also have special skin tightening attachments or smaller bikini attachments. Here it is important to pay attention to one's own needs.
1.5 Care & Cleaning
Most lady shavers are as easy to clean as the application itself. They can be cleaned quickly and easily under running water. Some models, mostly cable driven, have to be cleaned with a small cleaning brush. It is therefore important to make sure that at least the shaving head can be cleaned under running water.
2. Tips for a Better Shaving Result
Many women struggle with sensitive skin. No wonder – shaving is a serious intervention on the skin. In order to remove the hair as gently as possible, a few things need to be taken into account:
An important and often neglected point: The razor blade must be sharp. If the blade is not sharp, small micro-injuries occur on the skin and the annoying and often painful razor burn follows.
Warmth is a good helper when shaving. It is advisable to shave under the shower or in the bathtub. The heat opens the pores and softens the hair. However, the temperature should not be too hot.
The skin can also be pre-treated before shaving with a peeling or a massage brush. This helps to erect fine hairs and get rid of unnecessary dandruff. A peeling or massage is also helpful so that the hair does not grow in later.
During shaving, shaving gel or foam can help make shaving easier. If you don't have shaving foam at home, you can achieve a similar result with hair conditioners. This will help soften the hair and give it a beautiful gliding surface.
After shaving, the skin needs rest and should be given time to breathe if possible. In addition, alcohol-containing deodorant or strongly perfumed body lotion should be avoided. Even creams with a high fat content are more harmful than helping. They can clog the pores and cause annoying pimples.
3. Known Manufacturers
3.1 Braun
Braun belongs to the consumer goods group Procter & Gamble with headquarters in Cincinnati, United States. The company has focused increasingly on personal care products. With its Silk-épil product portfolio, Braun is one of the leading manufacturers in Europe. The models are often relatively affordable and offer many useful attachments in addition to familiar functions.
3.2 Philips
Philips is known as a manufacturer of health technology and household appliances based in Amsterdam, the Netherlands. With more than 74,000 employees, Philips has an annual turnover of 17.8 billion euros. The company's products have an excellent reputation. In the field of lady shavers, Philips is quite successful with its SatinShave products.
3.3 Grundig
Grundig was once founded by the German radio dealer Max Grundig based in Fuerth. For a long time the company was regarded as a traditional company and became the symbol of the West German economic miracle. After an insolvency in 2003, the company now belongs to the Turkish electronics manufacturer Beko Elektronik. Grundig sells rather cheap lady shavers of the LS series.
4. The Hair Removal Methods at a Glance
4.1 Shaving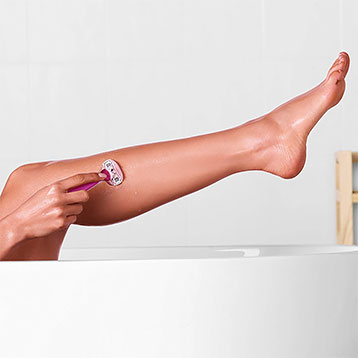 Shaving is and remains the most popular hair removal method. Particularly popular is the application on the legs, armpits and the intimate zone. The method is quick, easy and painless. Unfortunately, the durability of smooth skin is only valid for one to two days. Depending on the structure of the hair, the stubbles are back very quickly.
4.2 Epilating
During epilation, the small hairs together with the root are torn out. Many small tweezers are attached to a roller. The hair removal method only allows the hair to grow back again after approx. 4 weeks. However, the level of pain is relatively high when epilating. With regular use, however, the pain should subside.
4.3 Waxing
During waxing, the hair is pulled out with the help of wax against the direction of growth. The durability of the smooth skin surface is four to six weeks, significantly longer than with shaving. But the pain (no matter if warm or cold wax) is on a very high level. It is said, however, that the pain subsides over time, as the hair grows back finer.
4.4 Hair Removal Cream
Depilatory creams usually work with a sulphur-based active ingredient, which in turn dissolves the hair root and causes the hair to fall out. Due to its chemical composition, this method is not suitable for sensitive body regions or mucous membranes. However, if you have no problem with chemistry and insensitive skin, this method will give you smooth skin for about a week.
4.5 Lasers / IPL Hair Removal
In laser and IPL techniques, light rays destroy the melanin of the hair root and thus achieve permanent hair removal. What is important here is that there must be a good contrast between the skin and hair. If this is not the case, such as for fair skin and blond hair, the application is not very promising. At least at the dermatologist or cosmetic studio. IPL hair removal devices, which can be purchased for private use, usually reach smooth skin for about 4 weeks. The hair-free pleasure can last for years at the dermatologist's or cosmetic studio.
4.6 Sugaring
Sugaring involves applying a special sugar paste to the skin. Similar to waxing, the paste is extracted from natural active ingredients with the direction of hair growth. This method is particularly popular in Arab countries. Since the hair is pulled out together with the root, the hair-free experience is guaranteed for approx. 6 weeks.
5. Frequently Asked Questions (FAQ)
Can the Lady Shaver Be Carried in Aircraft Hand Luggage?
Women's razors and electric shavers may be carried in hand luggage. Only classic razor blades are forbidden. If you want to be on the safe side, you should check the hand luggage regulations at the responsible airline again.
How Often Do the Razor Blades Have to Be Changed?
Classic wet razors hold up to 14 applications, depending on the intensity of use – at least that's a rule of thumb. When shaving daily, this means that the blade should be changed after 14 days. In most cases, however, you will notice yourself when the razor blades are no longer sharp enough. If there are also slight skin irritations, you can assume that the blades are no longer sharp enough. With electric lady shavers, a blade lasts much longer. One cannot make an exact statement here. But depending on the quality of the blade and the duration of use, such a shaving block can last 18 to 24 months.
Can a Woman Also Use a Man's Razor?
Yes, of course. A German study by the consumer advice centre in Hamburg recently examined 11 shaving products again. The result: The variants for women were on average 38 percent more expensive than those for men. And that despite the almost identical composition. Price discrimination is not uncommon. Earlier this year, Gillette faced a global storm for his more expensive women's razors.
Which Models Are Suitable for the Face?
Many electric lady shavers have a separate attachment for the face or sensitive areas. This allows more precise removal of the areas above the upper lip or eyebrows. Alternatively, you can also look at rechargeable facial hair removers, which are usually the size of a lipstick.