Even if it is done only once in a while, hair removal is a procedure that really should be performed using an epilator, if the desired effect is to be thorough. The device is capable of removing every single hair along with its root. All epilators are electronic gadgets, looking very similar to shavers on first sight. Their structure and the inherent features are completely different from those of a shaver, however.
1. Functionality of an Epilator
Epilators all work in the same way. They pluck the little hairs plus their root out of the skin. Some manufacturers offer additional features, to make the procedure as gentle as possible. The fact that the hairs are being plucked may sound daunting at first. But rest assured, nowadays it is an almost pain-free and gentle procedure, resulting in incredibly smooth skin.
Rotating tweezers pluck every single hair. Depending on the manufacturer there are up to fifty of these built into the epilator head. Even closely spaced hairs are easily removed, a special hair-elevating feature will take care of those. Some epilators even come with an inbuilt light in the device's head, illuminating the finer and thinner hairs of your body so even those can be removed.
2. Area of Application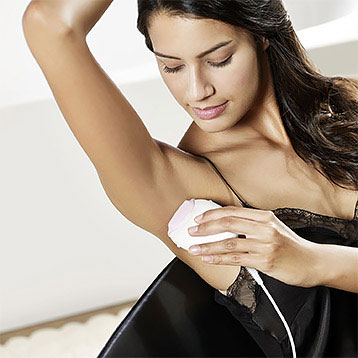 There are many different areas of application for an epilator. Most people use the gadget to remove hairs from legs, the stomach and arm pits. But there are actually more areas where an epilator can be useful.
2.1 Bikini Area and Armpits
Epilating hair in the bikini area or armpits is not very difficult, albeit it can be a rather painful and delicate procedure. In the beginning, you might have to force yourself to start the procedure. Generally however, it is not the best idea to use an epilator on your private parts. The hairs there are thicker with stronger roots, making the plucking that much harder and painful. Most manufacturers usually state if their epilator is recommended for usage in these areas or not.
Epilating your armpits is usually not as painful though, especially when you just showered or have taken a bath beforehand.
2.2 Epilating of Facial Hair
Here, again, the procedure has its pros and cons. The result is silky smooth skin which can last for up to four weeks. But in sensitive areas, like above the upper lip, this can be a very painful experience indeed. Skin irritations and pimples can be a side effect.
2.3 Epilating Around a Tattoo or Birthmark
Tattoo artists usually tell you to not use an epilator anywhere near their art, as the procedure might not only pluck hairs from your skin but also colour from the tattoo. Basically, the area around a tattoo should be treated with a shaver only. The same is true for areas around birthmarks. The built-in tweezers in an epilator might cut or injure these areas.
3. Equipment Features
Some equipment features are very important as they can make the entire epilating procedure a lot easier. Here are some of them:
3.1 Wet & Dry Use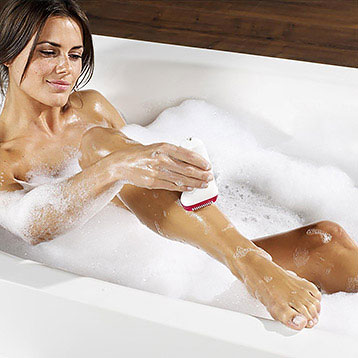 Most epilators can be used on wet or dry areas. Using the device on wet areas has its advantages though: Preparing your skin with warm water and soap stimulates the blood circulation, softening skin and hair at the same time. The procedure will thus be more gentle. The manufacturer usually states if an epilator features wet & dry use. Another advantage of epilating on wet areas is the fact that after the procedure, the shaved off hairs disappear along with the water down the drain.
3.2 Number of Tweezers
The number of built-in tweezers differs highly from one model to the next, so be aware of that before buying an epilator. Thirty to forty tweezers are fine, just keep this in mind: The more tweezers, the more hairs can be removed at one, the faster the procedure is done.
3.3 Width
The more tweezers are built into the epilator's head, the broader and wider it becomes. The same rule applies here: The wider the head is, the faster you are done.
3.4 Cordless
A cordless epilator has the obvious advantage of having no cord, granting you a greater flexibility of where and how to use the device. If it's a wet use device, it obviously has to be cordless and thus comes with a battery.
3.5 Battery Service Life and Battery Charging Time
There are usually no greater differences to be found when comparing battery features between models of different manufacturers. They all usually last between thirty and forty minutes. You should keep in mind, however, that a lithium ion battery is fully charged within an hour and thus the much faster alternative to other kinds of batteries.
3.6 Product Contents
Depending on model and manufacturer, the product contents differ. They usually entail a charger and a small bag to keep the device in, which comes in handy when you're travelling. More expensive models also come with trimming attachments for your face, legs and bikini area. Sometimes they even come with a cooling pad and a massage function attachment. Depending on where and how you want to use your device, you should be on the lookout for these possible bonus features.
4. Important Manufacturers
4.1 Braun
Braun and its Silk Epil products make the company the international number one manufacturer when it comes to epilators. The devices themselves range from rather simple to outright luxurious ones, with the flagship being the Silk Epil 9. They are waterproof, cordless, and come with a haed forty percent wider than the industry's average. To top it all, the Silk Epil 9 comes equipped with high frequency massage bumps which actively stimulate your skin. Different speed settings and an adjustable head complete the features. Its MicroGrip tweezers can remove hairs as tiny as 0.5 mm. Just for comparison: During a waxing procedure, only hairs with a length of at least 2 mm are removed.
4.2 Philips
Philips' product line is equally diverse, ranging from simple devices to more sophisticated and professional ones, establishing Philips as one of the global market leaders right next to Braun.
Their new flagship is the BRE650/00, a premium product that just won the iF Design Award 2016. Its handle is ergonomically formed and the device comes with eight additional attachments. Philips has its own patented system, working with ceramic tweezers, enabling their devices to remove hairs more gently and closer to the skin.
5. Using the Device Properly
Experience and the right handling of the epilator are key elements when it comes to removing hair thoroughly. In the beginning, the procedure usually is a little bit more painful, due to the simple fact that during the first procedure, there are more hairs that need to be plucked. Also, the skin is not yet used to the procedure, adding a little more discomfort, comparable to the time when you first started shaving. Over time, your body gets used to it and the discomfort will become less and less.
These Steps Are Important:
Try using the epilator in the evening, so your skin has time to recover over night.
Stay calm and keep a steady hand during the procedure.
Move the epilator in a ninety degree angle across your leg and, using your other hand, smooth out your skin.
Work slowly, so as to not break off any hairs. As a rough estimate it should take you about 15 seconds to move the epilator from your ankle to your knee.
You don't need to apply a lot of pressure. Instead, move the epilator as gently as possible across your skin.
Move against the grain. This way, you can get the smallest hairs as well.
Enjoy a silky smooth skin for up to four weeks.
Especially beginners should use an epilator equipped with a special attachment that comes with only a couple of built-in tweezers. The procedure itself takes a little longer this way, but uncomfortable side effect are kept to a minimum.
6. Pre-Care and After-Care
Epilating longer hairs should always follow a pre-care procedure, wherein you either trim these hairs with a different device or use one of the epilator's many attachments. The hairs should not exceed a length of about 5 mm when using an epilator on them. As an alternative, you can shave and then wait for about a week and use the epilator then.
Pre-Care Overview:
Shorten the hairs to a length of about 5 mm or shave a week before using the epilator.
Take a shower beforehand, to remove any residue of cremes or lotions you might use during your everyday life.
Have a peeling after the shower, to remove any dead skin and stimulate circulation.
Cold water or a cooling pad applied to your skin is a good way of reducing your skin's sensibility before starting the epilating procedure. At the same time, you're reducing many risks of side effects, like rashes or reddened skin. Cool your skin for about thirty seconds before you start.
After the procedure, there's only one more detail of importance: Apply some moistening lotion or creme to protect and revive your skin.
6.1 Can I Use an Epilator on Sensitive Skin?
If you have used an epilator once before and you're under the impression that your skin is too sensitive for the procedure, be patient. Your skin will take some time to get used to the procedure, and that's a fact. At first, a lot of hairs grow in very close proximity to one another, but after a couple of procedures using an epilator, there will be fewer hairs to remove. At the same time, skin irritations will become fewer and fewer for the same reason until there are none in the end.
6.2 Epilating Ingrown Hair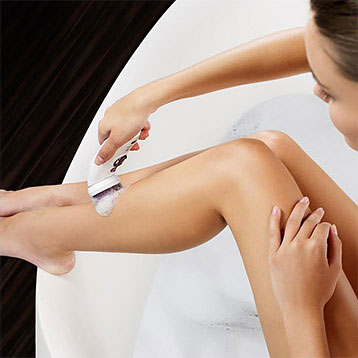 If you've got a tendency for your hairs to grow inward, using an epilator might be a good idea. When an epilator is used, it usually takes longer for the ingrown hair to show again. However, skin irritations around the ingrown hair will show again, so it is a good idea to use an especially soft and gentle epilator. This also diminishes the risk that hairs will grow inward again.
Peeling gloves are also a good way to get rid of ingrown hairs. Using tea tree oil on irritated skin areas is another good way to help your skin recuperate and heal. Avoid using fat containing cremes, since they tend to clog your pores, resulting in new ingrown hairs.
7. Epilator or Shaver? Pros and Cons
Different methods of hair removal, from epilating to shaving to waxing, they all have their different pros and cons, of course. We have listed a couple of these to help you decide which method is the one for you.
7.1 Waxing
The way waxing works, the concept behind the procedure, is basically pretty much the same as the concept behind the epilating procedure. The hairs are plucked completely and with their roots as they stick to the wax. With a quick pull you rip the hairs right out of your skin.
Pros: Smooth skin for up to five weeks. It's a fast procedure and a little less painful than epilating, especially in extremely sensitive regions.
Cons: For a very short moment, it really does hurt. Also, you can't wax again until the hair has grown back for at least 2 mm.
7.2 The Wet Shave
Most women still rely on the most established method for hair removal, no matter if it's for the legs, arm pits or bikini region: The wet shave is still the first go-to option. There are a lot of different shavers available, equipped with different kinds of blades and most are gentle on the skin, thanks to a gel or wax strip above the blades. Shave along with the grain to prevent red skin and other side effects.
Pros: It's quick and safe and can be done while showering. The result is a pleasantly smooth skin.
Cons: The hairs grow back fast and the procedure must be repeated every couple of days. It can also easily irritate and redden the skin.
7.3 Using the Epilator
Epilators themselves can be seen as a combination of dry shavers and waxing strips. Instead of blades, small tweezers pluck the hairs completely out of the skin, including the root.
Pros: The result lasts for up to four weeks. At the same time, the hairs will grow back at a slower rate and will be finer.
Cons: Like with waxing, the procedure can be painful. But then again, this differs from person to person.
8. Cleaning the Epilator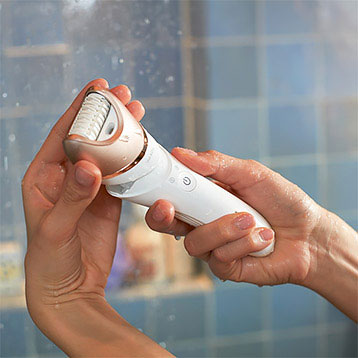 To keep the epilator in good working condition, it should be cleaned on a regular basis, since small hairs and sebum accumulate in the epilator's head over time.
8.1 Dry Cleaning
An epilator usually comes with a small brush with which you can easily clean the tweezers. Also, you should keep your epilator in the small bag that usually comes with the device. This way, you prevent small dust particles of entering the device's crucial parts, which could cause skin irritation and lead to malfunctions.
8.2 Wet Cleaning
If your device is a wet & dry epilator, you can clean it under running water as it is waterproof. However, be aware to only put the device back into its bag when it's completely dry again.
8.3 Cleaning with Alcohol
Every once in a while, a cleaning procedure with alcohol is in order. Your common household alcohol is just perfect for that. A sanitizer can be used as well, as long as its effect is sterilizing and antibacterial. Spread a tiny amount of the liquid on a lint free cloth, to prevent any particles from sticking to the tweezers afterwards, which would be entirely not the effect you were going for. If your epilator comes with an adjustable head, turn the head in every possible direction so you can clean every part of it and achieve the most thorough result.
9. Frequently Asked Questions (FAQ)
How Long Does an Epilating Procedure Take?
Depending on the area and the desired effect, epilating takes a while longer than other methods of hair removal. Compensating for the time it takes, the feeling of really smooth skin lasts longer, up to four weeks. Depending on your technique, the whole procedure can take up to an hour of your time.
When Will the Hairs Start to Grow Back?
After four weeks, you usually have to repeat the procedure. But again, this differs from person to person.
How Long Do the Hairs Have to Be for an Epilator to Work?
0.5 mm is usually the minimum length for an epilator to work efficiently.
Does an Epilator Remove Every Single Hair?
Yes, it does. However, if some are shorter than 0.5 mm, then these won't be plucked. But, at the same time, with a length below 0.5 mm, these hairs are usually not visible at all.
Can Men Use an Epilator as Well?
Yes, of course. The procedure and result are completely the same. And with men, too, the hairs will grow back at a slower rate after having used an epilator. And a man's skin will become just as silky smooth, also for up to four weeks.
Conversion Rights
Shopping online usually grants you the right of sale or return. Since an epilator is a hygiene product after all, the situation is somewhat more complicated. Bigger Manufacturers like Braun and Philips will give you a refund if you're not happy with their product. You can basically test an epilator by Braun for up to 100 days, and Philips offers you refunds for a time period of 28 days, depending on the product.
Should I Sanitize My Epilator?
Yes, you should clean the epilator with the little brush which comes with the device. Also, every once in a while, you should clean the device using alcohol or a sanitizer, since smaller hairs and sebum accumulate in the epilator's head over time.
My Epilator Isn't Working Anymore, What Can I Do?
If your device is not working properly anymore, it's usually because the tweezers have become worn and blunt, causing the hair removal procedure to become really painful all of a sudden. Should you encounter a more than usual level of discomfort during the procedure, then it is about time to exchange the epilator disc, meaning the part of the device where the tweezers are located. However, only higher priced models offer the technical possibility of replacing that part of the device.