Cabin luggage is an annoying and at the same time important issue for many air travellers. Everyone needs it, but nobody knows exactly what is allowed and what is not. Almost every airline has its own regulations that have to be fulfilled. Especially Ryanair is often in the media due to its annually changing hand luggage regulations. What to look out for when buying a cabin-size bag, and which airline has which requirements, you will find out in the following.
1. Important Equipment Features
1.1 Hard or Soft Shell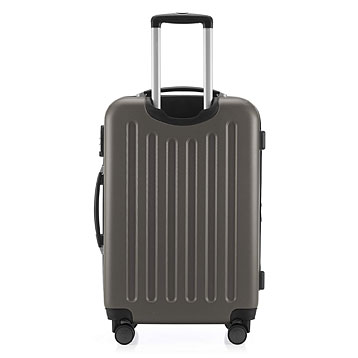 There are basically different types of material for hand luggage. The classic is the small hard shell case made of polycarbonate or ABS material. This suitcase usually has the maximum dimensions of the exemption limits and is water-repellent. Soft shell models made of polyester, on the other hand, are somewhat more flexible, and are often cheaper and more resistant to falls. Backpacks or small travel bags that have been optimized for the maximum dimensions of various airlines have recently been introduced. All variants offer their advantages and disadvantages.
1.2 Weight
An important factor when buying a suitable bag is its own weight. Many airlines also limit cabin luggage to a maximum weight. For example, the suitcases at Eurowings (formerly Germanwings) may weigh only 8 kg, at KLM even only 6 kg. Most models weigh between 2 kg and 3.5 kg. Who would like it particularly lightweight, should look at suitable backpacks or travel bags. These usually weigh less than 1 kg and are therefore particularly suitable for heavy hand luggage. In general, the less the bag weighs, the more it can be packed in.
1.3 Wheels
High-quality suitcases usually have twin wheels with ball bearings. These can be rotated through 360° and therefore offer excellent rolling properties. A rubberized outer surface is also recommended to keep the noise nuisance to a minimum when rolling. In general, it should be noted that rubberised twin wheels are better than single wheels.
2. IATA – Size Specifications for 290 Airlines
The IATA (International Air Transport Association) is an international air transport association, which acts as an umbrella association of currently approx. 290 airlines. All participating airlines can be looked up on here. The IATA tries to simplify the processes in the aviation business, including the standardization of tickets as well as luggage handling. Members known in the UK include Lufthansa, British Airways, Flybe, Virgin Atlantic and Eurowings.
The IATA airlines have agreed on a standard so that passengers do not have to keep an eye on the dimensions before every flight. According to this standard, cabin luggage may be 55 x 35 x 20 cm. If the suitcase complies with this standard, it may be marked "IATA Cabin OK". The problem is that not all airlines are members of IATA. These include well-known airlines such as Ryanair or EasyJet, which in turn require different luggage sizes.
3. Luggage Materials in Detail
3.1 ABS
ABS is a thermoplastic material that can be deformed in a certain temperature range. The abbreviation ABS stands for acrylonitrile-butadiene-styrene copolymer. The material is characterized by high stability and is particularly scratch-resistant. One disadvantage of the plastic is that it is difficult to recycle. The comparatively low manufacturing costs are a positive factor.
3.2 Polycarbonate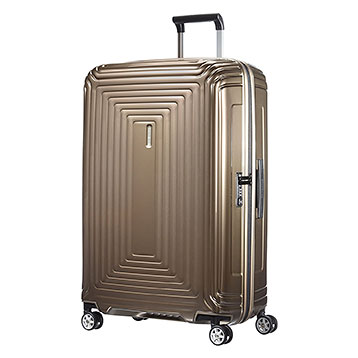 The polycarbonate (PC) material was first developed in 1953 by Bayer AG. The material is a transparent plastic that is easy to colour. Polycarbonate is particularly lightweight, has high impact strength and does not change shape at high temperatures. Polycarbonate is relatively expensive to manufacture and is therefore usually only used in more expensive models. Another positive fact is that polycarbonate is very easy to recycle.
3.3 Polyester
Polyester is a purely synthetically produced material, which is mostly used for backpacks or soft shell bags. The material is particularly light, water-repellent and tear-resistant. Strictly speaking, polycarbonate is also a polyester of carbonic acid.
3.4 ABS polycarbonate
Suitcases made of ABS polycarbonate combine the good properties of both materials. The inside of the suitcase is usually made of ABS material, while the outside is made of polycarbonate. This has its advantages especially in manufacturing. By mixing it with ABS, the shell can be sprayed better into the right shape. The material is also cheaper than pure polycarbonate.
4. Cabin Luggage Regulations of Airlines in the UK
Unfortunately, there are no uniform rules on cabin luggage in this country. Below we tell you what you can expect from the airlines. The dates are from January 2019 and may have changed since then. Before booking your flight you should read the cabin luggage regulations of the respective airline again.
4.1 Lufthansa
At Lufthansa, the permitted cabin luggage items depend on the class of travel booked. In general, however, another small piece of luggage may be carried as well as certain accessories for children or physically handicapped people. Cabin luggage may have a maximum size of 55 x 40 x 23 cm. In Economy Class and Premium Economy Class, only one piece of cabin luggage weighing up to 8 kg may be carried. In Business Class and First Class, 2 pieces of cabin luggage of 8 kg each may be carried.
Free cabin luggage: 55 x 40 x 23 cm
Free 2nd cabin luggage: 40 x 30 x 10 cm (handbag, laptop bag etc.)
4.2 EasyJet
The maximum cabin luggage allowed for Easyjet passengers is 56 x 45 x 25 cm and can be taken on board free of charge. There is no weight limit. However, the piece of luggage should only be so heavy that you are able to lift it into the luggage compartment yourself. Since the space in the aircraft is limited to 70 pieces, it may happen that the suitcase may not be taken into the cabin and must be stowed in the cargo compartment.
Free cabin luggage: 56 x 45 x 25 cm
4.3 Eurowings
At Eurowings, the cabin luggage may not exceed the maximum dimensions of 55 x 40 x 23 cm and the maximum weight of 8 kg. This does not apply to foldable garment bags up to a size of 57 x 54 x 15 cm, which are considered cabin luggage. In addition, each passenger may take on board a further small piece of luggage with the maximum dimensions of 40 x 30 x 10 cm. These are, for example, a briefcase or laptop bag.
Free cabin luggage: 55 x 40 x 23 cm
Free 2nd cabin luggage: 40 x 30 x 10 cm (handbag, laptop bag etc.)
4.4 Ryanair

Ryanair changes its hand luggage regulations almost annually. Since 1 November 2018, the largest permitted carry-on luggage that can be carried free of charge at the standard tariff has only been 40 x 20 x 25 cm. This is just the size of a larger ladies' handbag or a small backpack. If you want to take a larger cabin bag with the maximum dimensions of 55 x 40 x 20 cm and the maximum weight of 10 kg with you as usual, you will have to book a priority tariff in addition. The tariff costs £8 before booking and £10 afterwards. The bag can also be left at the counter for £20 before booking or £25 after booking.
So if you don't want to do without your small wheelie, you should add Priority to your flight booking. With this measure Ryanair wants to improve the general punctuality by eliminating boarding and flight delays. According to Ryanair itself, 60 percent of customers are not affected by this change anyway. 30 percent of customers already book Priority or travel with a small and free piece of luggage.
Free cabin luggage: 40 x 20 x 25 cm
Chargeable 2nd cabin luggage: 55 x 40 x 20 cm (only with Priority tariff)
4.5 British Airways
British Airways and BA CityFlyer have the following free luggage allowances. Hand luggage may weigh up to 23 kg. As always, however, every passenger should be able to lift it into the storage compartments. The maximum dimensions are 56 x 45 x 25 cm. For infants under 2 years of age, a further piece of luggage with the maximum dimensions of 56 x 45 x 25 cm may be taken on board. In addition, British Airways passengers may take a small handbag or laptop bag on board. This must not exceed the maximum dimensions of 45 x 30 x 15 cm.
Free cabin luggage: 56 x 45 x 25 cm
Free 2nd cabin luggage: 45 x 30 x 15 cm (handbag, laptop bag etc.)
4.6 Turkish Airlines
Turkish Airlines has different cabin luggage regulations depending on the fare booked. In Economy Class, passengers may only take on board 1 piece of luggage with a maximum weight of 8 kg and the dimensions 55 x 40 x 23 cm. In Business Class, on the other hand, 2 pieces of luggage with the same dimensions may be carried. In addition to cabin luggage, another personal item may be taken on board. This includes, for example, a handbag, a camera, a portable baby seat or a laptop bag.
Free cabin luggage: 55 x 40 x 23 cm
Free 2nd cabin luggage: e.g. handbag, laptop bag, etc.
4.7 KLM
At KLM, the free luggage allowance for hand luggage varies according to the tariff booked. In Economy Class, passengers on European and intercontinental flights may take on board a piece of hand luggage with the maximum dimensions of 55 x 35 x 25 cm. In Business Class, on the other hand, there may be 2 pieces of luggage with the same dimensions. In addition, passengers in both fares may take an additional small piece of luggage on board. This also includes a handbag or briefcase, or a laptop with the maximum dimensions of 40 x 30 x 15 cm.
Free cabin luggage: 55 x 35 x 25 cm
Free 2nd cabin luggage: 40 x 30 x 15 cm (handbag, laptop bag etc.)
5. Liquids in Hand Luggage – How It Works
The subject of liquids is a nuisance for many passengers, even though it is only for safety's sake. Since 6 November 2006, all airports in the European Union have had special regulations governing the carriage of liquids in hand luggage. The reason for this is that British authorities thwarted a terrorist attack in August 2006 in which liquid explosives in beverage bottles were to be detonated during the flight. Against this background, the European Union has restricted the carriage of liquids.
Liquids, including creams, lotions or gels, may have a maximum capacity of 100 ml in containers. The maximum quantity printed on the container applies, not the actual contents. If the perfume is half empty but theoretically 150 ml fits in, it is very likely that it will not be taken. These containers must be stored in a resealable 1 litre plastic bag. Each passenger may carry only one such 1 litre bag. All other liquids are not permitted and must be stowed in hold luggage.
5.1 Exceptions
An exception are medicines and special foods for babies that are needed during the trip. In the case of medication, the need must be credibly proven, for example with a prescription or a special certificate from a doctor. Since 31.01.2014, liquids purchased in a duty-free shop may be taken along. The liquids have to be sealed in a security bag with a red border together with the proof of purchase. However, the bag must not be opened until you reach your destination airport.
6. Hand Luggage Restrictions
Basically there are many misconceptions regarding the transport of utensils in hand luggage. Many myths say that shavers or cosmetics are forbidden in hand luggage. But in most cases this is not true.
6.1 This Is Allowed in Hand Luggage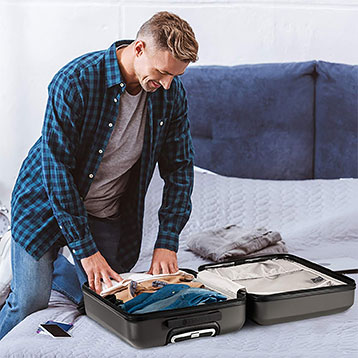 Cosmetic articles may be stowed in hand luggage. However, the 100 ml limit per container also applies here. Care should therefore be taken with creams, lotions, hair gel, perfume or liquid eyeliner. Provisions such as sandwiches or sweets may be carried in hand luggage. However, spreads or yoghurt are also considered liquids with the corresponding 100 ml restriction.
By the way: in many drugstores you can buy 100 milliliter containers for refilling cosmetics.
6.2 This Must Be Placed in Hand Luggage
Products with a Li-Ion battery should always be carried in hand luggage. Smartphones, e-cigarettes, power banks or laptops should not be stowed in hold luggage. The reason for this is that the chemical element lithium is very reactive. If the battery is damaged, it can ignite itself. In general, lithium batteries are more strictly regulated. Normal power banks and smartphones are not a problem. If you want to know exactly, you can find out about the conditions for taking lithium batteries with you from IATA.
6.3 These Items Are Prohibited in Hand Luggage
Several lighters (one lighter is allowed)
Pocket knives and other knives (with more than six centimetres of blade length)
Nail scissors and nail files
Razor blades & knitting needles
Certain sports and leisure equipment (which act as clubs, e.g. golf bats or baseball bats)
Fishing rods and tent pegs
Toy weapons (any kind of weapons or dummies)
Hair dyes and peroxides
Tools (e.g. drills, hammers, etc.)
7. Frequently Asked Questions (FAQ)
Can I Put a Razor in My Hand Luggage?
Basically, a razor is usually not a problem. Cartridge razors, disposable razors and electric shavers are no problem for most airlines. It becomes problematic with safety razors. The blades in the plane can also be used as a weapon and are therefore explicitly on the list of prohibited items in the EU.
Can I Take a Piece of Hand Luggage + Backpack With Me?
This is possible with most airlines. The larger piece of luggage is distributed over the seats in the stowage space, the smaller piece of luggage should be stowed under the front seat. This includes ladies' handbags, laptop bags, smaller shopping bags or the backpack. However, this does not apply to all airlines. In order to save the additional costs that many estimate, the hand luggage regulations of the respective airline should be inspected again carefully.
Where Is the Hand Luggage Weighed?
In many cases, hand luggage is not weighed at all. The staff at the gate or at check-in, however, are required to keep an eye on the hand luggage. If it appears to be too heavy or too large, the employees can arrange for the luggage to be weighed. If the excess weight of the carry-on luggage is not detected until after the security check, the ground staff can reject the luggage. This would result in additional costs and the bag would have to be taken to the hold. So you should always keep an eye on the weight.
Which Plastic Bags Are Suitable for Hand Luggage?
The plastic bags must not exceed a maximum volume of 1 litre. Many drugstores and supermarkets have such transparent bags with zip fasteners that have been specially designed for air travel.
Who Checks Hand Luggage?
Hand luggage is checked by airport security personnel. The hand luggage is scanned with an X-ray machine and searched if necessary.