A hot air brush, also known as a hair dryer brush or hot air styler, is a combination of a brush and a hair dryer. It can be used with one hand and little effort. Both smooth hair as well as light waves and voluminous curls are therefore possible. High-quality hot air brushes generally have two or three temperature and speed levels and the often recommended cool air setting. In this way, the brush hair dryer can be easily adapted to the texture of the hair as well as to the desired hairstyle. If a hot air brush is used after washing the hair, it also accelerates the drying process.
In addition to good handling, a good hot air brush should have a sufficiently long cable with a swivel joint, so that flexible movements are possible without the cable twisting too much. The cool air button should also be easy to reach with a finger movement to reduce the temperature if necessary. A regular application – as opposed to classic hair straightening and permanent waves – does not represent a problem for a sensitive scalp and stressed hair. Hot air brushes are available in numerous shapes and sizes as well as in various colours.
Simple principle: A hot air brush weakens via hot air (about 80 degrees) the hydrogen bonds in the hair. This makes the hair easy to shape and curl. Cold air (cool air function) helps afterwards to hold the hair in place, which makes curls last longer and the hair shiny.
1. These Different Types of Hot Air Brushes Are Available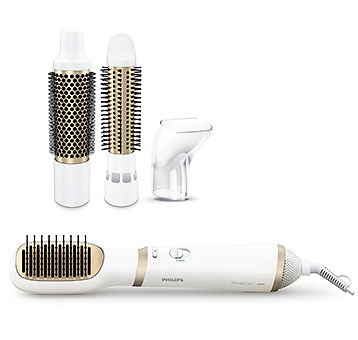 Depending on the type of hair and desired styling, different hot air brushes can be used. For example, there are hair dryer brushes with soft bristles available. These have the advantage that the hair does not get tangled very quickly in the appliance. Some devices are equipped with an automatic roll-out system. In the case of ceramic-coated hot air brushes, the heat is distributed evenly, in order to preserve the hair structure. For people with light and soft hair a hot air brush with ionizer is recommended. The anti-static effect prevents the protrusion of charged hair straws.
Not every brush is suitable for all hair lengths. Some hair dryer brushes can only be used for short to shoulder-length hair. The desired size of the waves or curls depends on the brush diameter. High-quality hot air brushes have several brush attachments, which can be replaced as required.
These usually include large and extra-large attachments for huge curls, small attachments for small waves or curls as well as hair dryer attachments for handling smooth hair, and for an attractive hair fullness. If you need a special application comfort, then you should rely on a hair brush with rotating attachments, which can be turned in two different directions. This is particularly advantageous when the rear head region needs to be styled.
1.1 Large Round Brush
If you have medium-length, long or heavy hair, it is best to use a large round brush (e.g. 40 and 50 mm in diameter). These can gather more hair than a small round brush. At the same time curls and voluminous hair styles can be styled.
1.2 Small Round Brush
In contrast, a hot air brush with a small diameter (e.g. 20 or 25 mm) is more suitable for short hair. Short to medium hair can be dried very quickly and brought into the desired shape. Even light curls can be made very easily with the help of the attachment. These small round brushes are particularly suitable for styling bangs as well.
1.3 With Hair Dryer Attachment
An additional hair dryer attachment or volume attachment brings fullness into the hair and smoothens it during the drying. It is important that the brush attachment can be simply and securely attached and does not wiggle.
Note: Brush attachments should not be removed immediately, after cleaning the hot air brush. Since they can still be very hot, there is a risk of skin burns. It is advisable to resort to devices with an anti-overheating function.
2. Important Equipment Details
Today, there are a variety of different brush models. When purchasing a hot air brush, it is essential to consider what the appliance is going to be used for. There are further characteristics and equipment details, which must be taken into account.
2.1 Self-Rotating Motor and Long Cable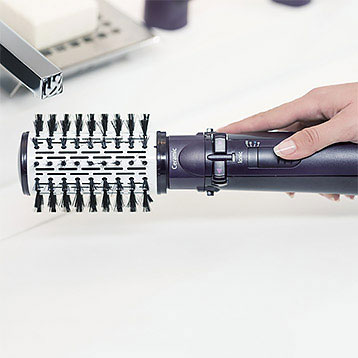 When selecting a suitable hot air brush, the engine power plays a role in particular. While a power of less than 700 watts for short and thin hair is sufficient, thicker and longer hair appliances with 800 watts and more are needed to achieve an optimal result. The cable should have a minimum length of 2 meters and should be equipped with a 360 degree rotating joint.
2.2 Coating of the Attachments
A hot air brush is ideally provided with a ceramic coating, since this type of coating achieves an optimum heat distribution. At the same time the brush can be easily guided through the hair and allows a gentle styling.
2.3 Diameter and Quality of the Brush Heads
While most brush heads are equipped with plastic bristles, some have natural bristles (often wild boar bristles). These allow the hair to shine and ensures that it does not become felted during styling. The mainly ceramic-coated brush heads have different sizes and shapes. For example, there are small round brushes with a diameter of 20 to 25 millimeters and large brush heads with 40 or 50 millimeters.
2.4 Blower/Heating Levels
Hot air brushes have generally at least two blowers and heating levels. In addition, an innovative ion technology ensures that no static charges occur. The result is easy to comb and shiny hair.
2.5 Cool Setting
If you want to dry your hair very gently, then you can use the cool setting, which most of the hot air brushes provide. This makes it possible to fixate the hairstyle afterwards, so that the styling lasts longer and less Hairspray needs to be used.
2.6 Retractable Bristles
Some hot air brushes provide a roll-out function or efficient brush attachments for an even more comfortable styling, which makes it possible to lower the bristles as desired and pull them back out again.
2.7 Scope of Delivery
Each hot air brush is delivered with a user manual, however, the other scope of delivery varies from product to product.
The following may be included in a set:
Storage bag
2 to 3 brush attachments in different sizes (round brushes)
Dryer and straightening attachments
Volume diffuser
Tip: For a thick hair structure a hot air brush with high wattage is generally preferable. Fine hair can be styled more easily with a simple motorized device.
3. The Advantages of a Hot Air Brush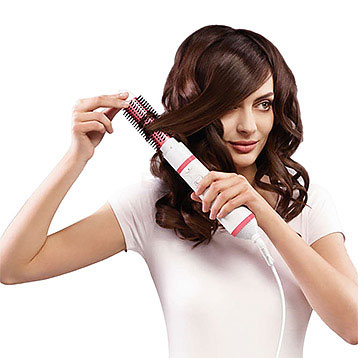 Hot air brushes offer numerous possibilities for styling and changing the hair. The hair can be straightened, blow-dried, waved or curled according to your wishes. Those who have little time in the morning will also benefit from an easy handling. A hair dryer brush is – as the name suggests – a combination of hair dryer and brush. The appliance can be used with one hand and styles the hair more gently than a hair straightener or a curling wand thanks to its high-quality ceramic coating and various temperature levels (including a cool setting).
The advantages of a hot air brush:
Modern, sleek design
Extremely versatile (for smooth, curly, short or long hair)
Easy handling (with one hand)
Hair-protecting ceramic coating
With dryer attachment
Long cable (1.5 to 2 meters) with swivel joint
Ionic function
Round brushes in different sizes
Cool air button
3.1 The Brush Is Suitable for the Following Hairstyles
A hot air brush is usually offered with several attachments. In general, at least one small and one large circular brush as well as a hair dryer attachment are included in the set, so that different results can be achieved. With the aid of a hot air brush, small waves and voluminous curls can be styled as well as beautiful smooth hair.
The appropriate attachment should be chosen according to the hair length and hair fullness. Brushes with small diameters are suitable for short hair styles. Long hair can be handled better with large round brushes.
4. Important Manufacturers
Today, there are numerous manufacturers who specialized in hot air brushes. These produce hair dryer brushes in different sizes and shapes as well as with various functions and features.
4.1 Remington
Remington is one of the best-known lifestyle brands in the world. The company's products are based on innovative technologies and the finest materials. In addition to men's razors and hair removal products, they also offer high-quality hair styling products.
4.2 BaByliss
The French company BaByliss was founded in 1961. The company, which belongs to the Conair Group, specializes in the production and distribution of hair dryers. Its customers include hairdressing salons as well as private clients.
4.3 Rowenta
Many people associate the Rowenta brand with household and kitchen appliances, which the company has been offering since 1909. Since 1997, Rowenta has also sold various hair styling devices, such as hot air brushes.
4.4 Grundig
The Nürnberger Grundig Intermedia GmbH originated from the German Grundig AG founded in 1946. The traditional company first gained worldwide fame with televisions and radios. Today, the company offers not only entertainment electronics and household appliances, but also numerous electrical appliances. The company relies on research as well as innovation and offers among other things hair brushes with protective titanium-ceramic coatings.
4.5 Philips
The Philips GmbH was founded in 1926 in Berlin. Philips Germany is one of the most important research and production sites in the country, and is one of the largest and highest revenue-generating subsidiaries of the Philips Group. At the same time, the company is one of the ten strongest leaders in the German electronics industry.
4.6 Braun
Braun is a company with a long history of success. With a groundbreaking product design and robust German technology, it developed from an initial engineering company into a world-renowned premium brand for electrical equipment.
5. The Correct Application
The application is basically the same for all devices. Depending on the desired hairstyle and hair length, you must first select the appropriate attachment. After moistening the hair and setting out individual hair parts, the hot air brush is attached and turned in at the end of each strand.
It is important to begin with the smallest device level and to gradually select a higher level. After about a minute, you can switch the appliance to the cool air function to fixate the respective strands. If the hair is still very wet, then you can use the hot air function a little longer to dry it out.
6. How to Get the Perfect Curly Hairstyle
Curls can be produced very simply with the help of a hot air brush. It may require some patience and skill at the beginning until the desired result is achieved.
6.1 Preparation
Step 1: Select the brush attachment
Depending on which hair style is desired, you should opt for a suitable brush attachment. As a basic rule: large attachment – volume or large curls, small attachment – waves or small curls.
Step 2: Moisten the hair
If the hair has not been washed, it is advisable to previously moisten it in order to achieve a good result afterwards. You may also want to apply some mousse or heat protection spray to the hair.
Step 3: Divide the hair strands
Before you begin with the blow drying/styling, you can divide your hair into individual hair sections, in order to prepare each strand individually (especially recommended for long hair).
6.2 Styling
Prior to turning in the strands, you should consider whether you want to achieve inside or outside waves. As a result, the ends of the strands must be turned outwards or inwards on the hot air brush. For voluminous and large curls, the entire strand must be turned up.
6.3 Fixing
In order to fixate the strands or curls at the end, it is advisable to switch on the cool air function. In order for the curls to last longer, you can also use various care products. These include:
Heat protection spray
Hair setting lotion
Hairspray
The heat protection spray should already be applied to the hair prior to the hair styling. It protects and maintains the hair structure optimally against hot air. Hair setting lotion or mousse can also be massaged into the hair before blow-drying and styling. The light film, which reaches the hair, allows it to be combed and formed very well. Finally, you can stabilize the hairstyle with a little hair spray. The spray gives the hair a beautiful shine and ensures that the hair is not destroyed even during rain or wind.
Tip: If you let the brush head to rotate for a minute at the hairline before it is turned up (if curls are desired), you can achieve a great volume!
7. Clean the Brush Properly
Cleaning the brushes is relatively easy. After use, all hair should be removed from the brush using a comb or other devices. Since hot air brushes are connected to a power supply, they should never be held under water.
8. The Consequences of Excessive Heat for the Hair
Hot air brushes have an advantage over similar devices, such as hair curlers or hair straightener, in that they dry and style the hair gently. This is especially important when the hair is thin and delicate or regularly styled in this way. Excessive application of these devices can lead to drying-out of the hair and the split ends. However, the ceramic coating as well as the mostly existing ion function of the hot air brushes protects the hair from this. They are therefore highly recommended for regular use. However, it is always advisable to generally select a lower heating setting for all styling devices.
9. Frequently Asked Questions (FAQ)
Is the Hot Air Brush Also Suitable for Thin and Fine Hair?
Yes. It is recommended to use a hot air brush whose engine is not too strong. This prevents the fine hair from being pulled out of the scalp. It is also recommended to use a slow rotation speed.
Can You Also Smooth the Hair With a Hot Air Brush?
Yes. With the various attachments of a hot air brush, frizzy and stubborn or curly hair can also be transformed into a smooth hair style.
How Hot Does an Hot Air Brushes Get?
Hot air brushes work with hot air up from 80 degrees (up to a maximum of 100 degrees) and are particularly gentle to the scalp and hair. In comparison, hair straighteners are heated up to about 200 degrees.
Why Do You Need a Cool Setting?
With the cool setting, the dried and freshly waved hair can then be fixed afterwards.
How Harmful Are Hot Airbrushes for the Hair?
Heat always presents a challenge for the hair structure. If you expose your hair to intense high every day, you must expect split ends, dry hair and finally a visit to the hair stylist. Hot air brushes are more suitable for regular application than hair curlers and straighteners as they dry and form the hair in a gently way.