From gently falling, large curls to small angelic locks – a curling wand allows you to produce different results. In order to achieve this, you can nowadays rely on various models. The selection ranges from thick and thin, or conical-shaped and straight, to automatically operated hair curlers.
1. The First Hair Curler
The first curling irons already existed in Roman-Greek antiquity. At that time, bronze rods were heated and a pipe was placed over them in order not to burn the hair. Even in the past, curls were considered a beauty ideal for almost any women. Goddesses with their curly hair were often painted on precious vases and walls to illustrate this. The curling iron was developed further in the succeeding centuries into a polished metal rod, which was heated over an open fire and used for winding strands of hair. But it was not until the 1960s, when the first hair curlers were developed that worked with electricity. Braun is considered to be the only patent holder of the modern curling wand. The curling wand has been increasingly optimized for household use, so that nowadays every woman has been able to produce beautiful curls on their own.
2. These Types of Hair Curlers Are Available
Meanwhile, there is a wide selection of hair curlers, which are available on the market. Many devices are designed to be applied to dry hair. However, there are also devices available with an integrated blower and a round brush. These can also be applied to towel-dried hair. In addition, some hair curlers have also an integrated heat protection. When the wand reaches a certain temperature or exceeds the operating time, it switches off automatically. Such a function ensures that the appliance itself will last longer and the hair will not be damaged due to overheating.
Tip: When buying a hair curler, make sure that the cable is long enough and twistable as much as possible. This makes working with the device much easier.
2.1 Curling Wands & Tongs
Before deciding on a device, you should consider what results you want to achieve with it. Are more defined curls, natural waves or only a few light strands required? For every purpose there is nowadays the right device.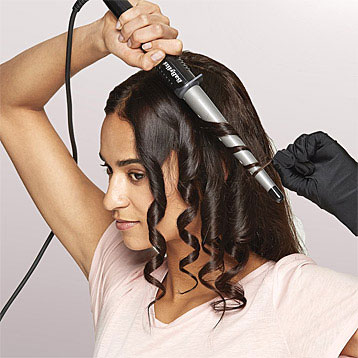 Round shape:
small (for defined small curls)
medium size (for normal large curls)
large (for luscious waves and curls)
Conical:
for curls of different sizes (narrower towards the bottom)
Elliptical:
for natural-looking curls and waves
Furthermore, a distinction is made between:
curling wands without clamps (natural results; some exercise may be required; suitable for long hair)
curling tongs with clamps (easy handling; a lack of exercise may cause that small dents may be present in the hair at the beginning)
2.2 Wavers
In addition to the classic curling wand, there are so-called wavers. These electrically operated devices have high-quality coatings that protect the hair, but they also ensure an efficient heat transfer and waveform. The temperature can generally be set through several levels. It is important to always choose the lowest possible temperature in order to protect the hair from damage. The waves are created by a strand of hair being absorbed into the waver. The hair strand is then pressed together for a moment and loosened again.
time-independent use possible
temperature control as needed
heats up quickly
even, beautiful waves
relatively time consuming to use
the device can be quite heavy
2.2.1 The Correct Application of a Waver
There are a few points that need to be considered, when applying a waver. For example, a heat protection spray should be used to protect the hair against damage. Also a daily application is not advisable. In order to find the right temperature for your own hair, you should start with the lowest temperature and increase it until the ideal temperature is found. Use a styling mousse to give the waves a strong hold. With the aid of a tail comb, strands are separated as desired and processed successively with the waver. If all the desired strands are curled up to the tip of the hair, you can easily loosen the hair with your fingers and fixate it with a little hair spray. In this way, the waves look particularly natural and beautiful, even on the next day.
2.3 Automatic Curlers
While curling hair with the help of hair rollers is often tedious and time-consuming, using an auto curler allows you to create beautiful and natural curls that last for a long time. However, the selection is huge. Very popular are fully automatic devices with various attachments and functions. The most important thing when buying a hair curler is the quality. A high-quality product should have a coating of Teflon, tourmaline or ceramics, in order to be able to style the hair perfectly and not to damage it. Lastly, the individual functions such as the temperature setting and the size of the curler should also play a big role in your decision making.
easy to use
easy curling of the hair
no additional styling devices are needed
modern device design
no pulling and damaging the hair thanks to a high-quality coating
suitable for shorter hair
various curling sizes are possible via various attachments
instantly long-lasting and intense curls
some models require a long heat-up time
the hair can be damaged if the device is used improperly or if the device is a very cheap model
freedom of movement is somewhat restricted through power cables
care products must be used according to the frequency of application
relatively expensive depending on the product
2.3.1 How Does an Automatic Curler Work?
Automatic curlers utilize warmth. In order to curl the hair, individual strands of hair are winded around the hot turner as desired, and released after a few seconds. The coating protects the hair during this time and equally provides a good heat distribution. The curled hair then gets a beautiful shine and looks strong.
2.3.2 The Correct Application of an Automatic Curler
Automatic curlers are usually used on dry hair. It is not advisable to use it on wet hair as it can be damaged or dried up depending on the temperature settings and the appliance coating. Before use, the device needs to be warmed up for a few minutes, according to the manufacturer's instructions. During this time, a heat protection spray can be used on the hair to protect it additionally. After careful combing of the hair, starting with the back of the head, you can begin to curl the hair strand after strand. It is important not to place the device too close to the head in order to avoid burns of the scalp.
The strands are curled from outside to inside and from top to bottom. The important consideration here is: The thicker the strand, the larger the curls. The hair strand is held with one hand and gently wrapped around the device. Automatic curlers, which additionally have a clamp, simplify the creation of curls. With the clamp, which should open and close as easily as possible, a strand of hair can easily be fixed, which leaves a hand free. The strands are then dried and formed with the aid of heat.
Once the curly hairstyle is finished, it can be fixed with Hairspray. The automatic curler should be freed of any attached hair after use. If necessary, it can be carefully cleaned with a damp cloth.
3. Important Features and Purchase Criteria
3.1 Temperature Range
When selecting a curling wand, the temperature settings play an important role. Some models work with low temperatures to avoid damaging the hair. However, these devices are less suitable for stubborn or thick hair. It is recommended to use devices that operate at higher temperatures. In general, however, always choose the lowest temperature! In addition to adjustable levels, many devices also have a temperature display.
3.2 Coating
A good curling wand should have at least a ceramic coating or a Teflon coating. Both surfaces ensure that the hair is not damaged by the heat and the heat of the curler is optimally distributed. Some models are also equipped with gemstone and mineral coatings such as garnet or tourmaline, which also provide very good results. These devices tend to be in the upper price range.
3.3 Barrel Size
Curling wands are generally available in different sizes. The diameter should always be based on the length and thickness of the hair as well as the desired result. While smaller device can be used to create defined ringlets, large curling wands are the main choice create beautiful waves or voluminous curls.
3.4 Heat-up Time
In addition to good handling, the heat-up time is also an important purchase criterion. Mainly in the morning, there is often very little time to create beautiful curls. A curling wand, which only takes a few minutes to heat up, is therefore a good choice. When choosing a suitable curler, please note: Depending on the model, the heat-up time may vary considerably.
3.5 Clamp Mounting for the Hair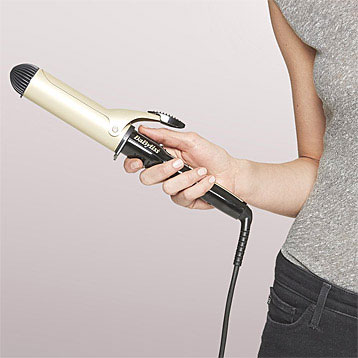 A good usability of the device is an important issue in hair styling. Light curling wands usually lie better in the hand than heavy ones. If there is also a clamp on the curler, the work is additionally facilitated. It is important that the clamp can be easily released with one hand. A curling tong with clamping brackets is recommended, especially for beginners.
3.6 Cool Tip
High-quality devices have a cool tip, so that the user does not accidentally burn itself at the end of the wand during the creation of the curls.
3.7 Automatic Shut-off
Modern curling wands have a safety shut-off. These devices shut off automatically after a certain time (for example, after one hour). This way it is almost impossible for an overheating to occur.
3.8 Cable Length
Security is an important aspect. A good curling wand is therefore ideally equipped with a 2 to 3 meter long cable, which has a heat-resistant coating.
3.9 Swivel Cord
A swivel cord allows a more flexible handling and is therefore a decisive feature when choosing the right device.
3.10 Scope of Delivery
Depending on the manufacturer and model, hair curlers can be supplied with different attachments. Some products also include heat protection gloves, hairpins and other care accessories.
4. Important Manufacturers
There are numerous manufacturers of curling wands on the market. However, this does not necessarily simplify the search for a suitable device. Manufacturers who are particularly established in this field are listed below.
4.1 Remington
Remington is one of the best-known manufacturers, which in 1937 achieved international success with the first electric dry shaver. Remington is also still one of the most successful companies in the field of hair styling products and stands out particularly for its products of high standards and a very good price-performance ratio. Among other things, the manufacturer supplies hairdressing salons and hair styling professionals with electrical appliances, but also directs its assortment at the end consumer.
4.2 BaByliss
Like Remington, the company BaByliss has been an expert in hair styling equipment for many years. The company is characterized by innovative product ideas and product developments at the highest level. The goal is to address the needs of discerning women and develop devices with useful and innovative functions. For that purpose, BaByliss works closely together with professionals from the industry.
4.3 Philips
Philips has specialized in the development and production of innovative and functional curling wands in the hair styling sector. In addition to high-quality ceramic-titanium coatings, the brands appliances also have several timer and temperature settings, brushless motors and a particularly short heating-up time.
4.4 Braun
As the other well-known manufacturers of curling wands, Braun has also made a name for itself when it comes to device quality. Both the intuitive control and the stable composition of the devices are praised by the users. Since the 1970s, the company has been manufacturing Braun products for the hair styling market and has been able to acquire corresponding know-how during this time.
5. The Correct Application
Hair can be curled in different ways. In addition to hair rollers, a curling wand is a popular option, it is also time-saving and preserves the hair structure. In just a few minutes, the user is able to create magnificent curls.
5.1 The Proper Preparation
With the help of a curling wand it is possible to create beautiful curls in no time. However, before the curling wand is used, it is important to prepare the hair for the treatment. After the hair has been washed and blow-dried, the first step is to use a curling foam or a mousse that should be applied to the hair. This ensures that the curls look particularly beautiful and last longer. For very sensitive hair, it is also recommended to use a heat protection spray in order to protect the hair from heat damage.
5.2 The Right Temperature Setting for Different Hair Types
The curling wand should always be selected according to the desired result. Depending on whether small or large curls are to be created, a thin (for small curls) or a thick (for large curls) curler is suitable. However, the right temperature setting is also important. Whilst healthy and thick hair can withstand temperatures of up to 220 degrees Celsius, damaged or thin hair should only be treated to a maximum of 170 degrees Celsius. Extensions also require caution. If real hair strands are to be waved or curled, a temperature of 160 degrees Celsius is recommended. The temperatures can be adjusted manually or automatically depending on the device.
| | |
| --- | --- |
| Hair Type | Recommended Temperature Range |
| Healthy and thick hair | 170 to 220 degrees Celsius |
| Fine and thin hair | up to 170 degrees Celsius |
| Curly, frizzy and stubborn hair | 170 to 220 degrees Celsius |
| Chemically treated, coloured hair | up to 170 degrees Celsius |
| Real hair extensions | up to 160 degrees Celsius |
| Dry or damaged hair | in this situation it is not advised to use a curling wand as the device may cause further damage |
5.3 The Procedure
Once the correct device has been selected, individual strands can be treated with it. Depending on the desired curl size, individual (thick or thin) strands are now separated, put up and curled one by one. Whether curling wand, waver or automatic curler: You should usually begin with the bottom hair. If the whole head is to be treated, it is advisable to work from the back to the front.
Tip: If you want your look to be less "organized", the strands can also be turned alternatively backwards and forwards.
5.3.1 Using a Curling Wand
Wash the hair, dry it and, if necessary, use a mousse or heat protection spray (approximately 20 to 60 minutes beforehand).
Heat the curling wand, seperate the strands and create curls as desired.
Allow the hair to cool down for about 5 minutes, loosen up the hair or comb it slightly and fix it with hairspray.
Shut off the curling wand and carry out the cleaning process only after the device has cooled down.
5.3.2 Using a Waver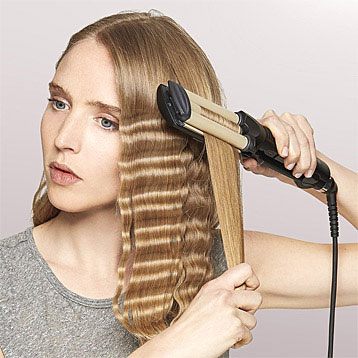 For a gentle treatment of the (dry) hair a heat protection spray should be used in advance. The incorporation of styling mousse ensures a long hold of the waves.
The hair is then divided into individual strands with the help of a tail comb, which are then gradually processed with the waver.
The control light on the device indicates when it is ready for use. Then the first strand can be placed in the device and pressed together for a brief moment. Then the next strand follows.
It is advisable to start with the lowest temperature and to increase it slowly until the optimum for your own hair is found.
Afterwards, the waves can be easily loosened with your fingers and fixed with hairspray.
5.3.3 Using an Automatic Curler
An automatic curler can be used in the same way as a curling wand. The main difference is that the motor of the device automatically draws in and rotates the inserted strand. After the strands are finished, an acoustic signal will sound.
The strand can then be removed from the device. The individual strands are gradually processed until the desired result is obtained.
Finally, some hairspray helps to prolong the life of the curls.
5.4 Follow-up Treatment
After all the curls have been turned in, the hair should be shaken vigorously overhead. If necessary, the curl can then be fixed with a little hairspray or volume powder. In this way, the hair gets additional momentum and the curls last particularly long.
6. How to Repair Heat Damaged Hair
If your hair is damaged, then this can have many causes. In addition to harmful influences and incorrect or too little care, heat can also be a reason. In principle, the hair should not be too frequently treated with a hair curler or a similar device in order not to damage the hair structure.
It is also advisable to do a hair treatment once a week. A commercial care product or even normal olive oil can be used for this purpose. Both should be gently massaged into the hair and after a certain exposure time thoroughly rinsed again. The hair-ends should not be forgotten during this process!
Also the use of a mild shampoo as well as regular cutting of the tips helps the hair to remain healthy.
7. Frequently Asked Questions (FAQ)
What to Do When You Are Burnt by a Curling Wand?
Depending on the severity of the burns, the affected area should be immediately cooled and, if necessary, examined by a doctor.
How Long Do Curls Last, That Are Created With a Curling Wand?
The longevity of the curls that are created with a curling wand depends on several factors. The use of styling mousse can extend the durability of the curls, but the thickness of the hair plays also a role. Thin hair can preserve curls longer than thick hair. After treatment with the curler, it is also recommended not to comb the hair too much and to fix the curls with hairspray.
Are Curling Wands Also Suitable for Thin Hair?
A curling wand can also be used for thin hair. It is recommended to use a model with a small diameter and not to choose a too high temperature.
Is a Curling Wand Allowed as as Hand Luggage on a Plane?
There is no law prohibiting the carrying of electronic devices as hand luggage. Electrical appliances such as hair curlers, a hair dryer or a shaver can usually be carried in the hand luggage on an airplane.
Can the Curling Wand Be Used With Wet/Damp Hair?
A normal curling wand should always be applied on washed and afterwards dried hair so that it does not damage the hair structure or even "burn" the hair. However, there are special devices which are also suitable for damp hair and can be used without concern.
Are Curling Wands Also Suitable for Corkscrew Curls?
Even small curls can be created with the help of curling wands. However, these so-called corkscrew curls are even better created with a waver.