A hair straightener is considered to be one of the most important tools among woman for the styling of their hair, even though it might be controversial due to the high temperature development. Many users utilize a hair straightener not only to straighten their hair, but also to create curls or waves in the hair. Below you can find our buying guide and various tips in regards to this topic.
1. What Is a Hair Straightener?
A hair straightener is a hair styling appliance, which is able to create especially attractive straight hairstyles, called sleek looks. Some models also include a styling feature to create curly hairstyles. This trend for smoothing the hair experienced a significant upswing in the United States and in Western Europe at the beginning of the 21st century. It had its origins mainly in the area of film and television. The trend of sleek looks or smooth styling has not lost its original popularity for almost twenty years now. However, the hair straightener is by no means a modern invention, because it has been used in a simpler form ever since the early 20th century by the ladies. Initially a pair of blunt iron pliers was used for this process, which were heated on the stove.
1.1 Which Function Does a Hair Straightener Have?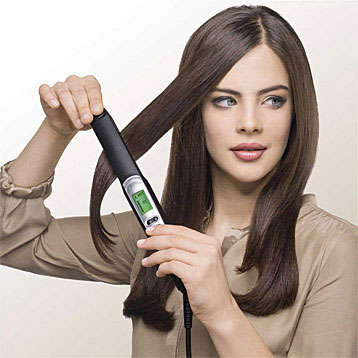 Modern hair straighteners mainly stand out due to their comfortable, functional details, which ensure appealing hairstyles. However, they are also designed in such way that the smoothing of the hair is carried out as gentle as possible. Hair straighteners are constructed like extended pliers with flat, blunt ends. There are also heating elements located on the insides of the ends. The hair, strand after strand, is successively inserted into these heating elements and smoothed out by operating the pliers sideways, away from the head. Because the ends of the hair straightener are very hot on the inside, the heat sensitive hair gives in to the pull and is smoothed out. The smoothing can be fixated with a suitable hairspray after the strands slowly cooled off, and the sleek look is finished. Certain hair straighteners make it also possible to create curls or waves in the hair.
1.2 What Types of Hair Straighteners Are There?
Regular hair straighteners are around 20 and 30 cm long. They are equipped with heating plates, which have a width between 1.5 to 5 cm and a length of approximately 6 to 11 cm. Regular hair straighteners weigh between 350 and 700 g. Considerably smaller in size are the so-called mini hair straighteners that are around 15 to 20 cm long and weigh between 200 to 500 g. Accordingly, they have much smaller heating plates, but on the other hand they can easily be carried along while travelling and are suitable for straightening the hair on the go. Cordless hair straighteners are perfect if you want to refresh your styling in between. However, due to the batteries they are relatively heavy and the small heaters make them rather slow during usage. Therefore, they are less suitable for a complete styling session. Narrow straighteners with rounded edges are also used to create curls. Models with particularly wide heating plates achieve very fast straightening results, however, they are not suited to create curls.
2. Areas of Application for Hair Straighteners
Traditional hair straighteners are primarily intended for straightening the hair. So-called multi-styler include a range of various functional attachments and are often equipped with an attachment to straighten hair. Since the results largely depend on the quality of the appliance, it is certainly not advisable to use these kind of models for regular hair straightening. A high quality hair straightening device, on the other hand, can be used to straighten fine to thick hair and even transforms natural curls into a sleek straight hairstyle. Hair straighteners are also able to bring back volume into hair, which is prone to natural frizz or curls, without being curly by nature. Through the application the finish of fine hair smooth, tight and receives a nice shine. A hairstyle that can be styled particularly well by the hair straightener is the Bob, in which the hair length may lie between the chin and shoulders. The long top layer of the hair will also receive a more voluminous appearance through the use of a hair straightener.
2.1 Increased Hair Care Needs Due to Hair Straightening
Long hair, which is falling down over the shoulders, can be very well styled with a hair straightener, but this will also increase the amount of care needed. If the hair is very thick, it also requires a higher temperature, which can be exhausting for the hair structure. Because of high stress for the hair fiber, most hair stylists do not recommend a daily straightening of the hair. Those who often straighten their hair can prevent hair damage through the use of quality hair care products. Nourishing shampoos and hair treatments from hairdressing suppliers are products, which are more suitable for this purpose than basic standard products. Regular use of hair oils, particularly argan oil, will ensure that the hair becomes more heat-resistant.
2.2 Professional Care Pays Off
The hair ends need also to be cut more often, even if it is only a millimeter, because structural damage is clearly visible in straightened hair. The hair should be washed and nurtured before each use of the hair straightener. The hair needs to be completely dry before straightening and it should be protected with a special heat protection spray for hair straightening. If the hair is strained too much, then this might lead to hair breakage. Well-groomed hair that was treated professionally and straightened gives off a unique glance and shows a brilliant finish. The results of styling hair with a hair straightener essentially depend on the selected appliance and the care products, which are being used. This can be significantly improved by the use of a professional hair straightener. With an exclusive hair straightener and the right care products everyone is able to create the perfect styling at home.
3. Equipment Features
3.1 The Material of the Heating Plates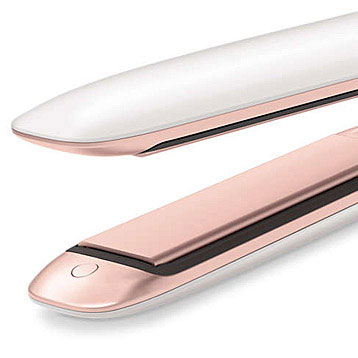 One of the most important details of a good hair straightener are the heating plates. Modern hair straighteners come with heating plates that have a smooth ceramic coating with more or less high quality. However, with inferior equipment this coating may quickly begin to crumble. As a result, the hair gets into contact with the underlying metal plate and may even take damage.
For that reason high-quality appliances have heating plates that are made of full ceramic material, which represents an effective quality advantage. Ceramic surfaces with special technologies, such as nanotechnologies, are also distinguished by a particularly smooth surface. Such hair straighteners glide extremely gently over the hair strand, which is very beneficial for the overall health of the hair. The high quality workmanship also ensures a longer service life of the hair straightener, because cheap appliances usually have to be disposed of if the ceramic coating has been damaged. As a result, investing in a more expensive and high quality hair straightener will usually pay off. Investing directly in a high-priced model also offers the major advantage that the customer is able to enjoy the benefits of this superior technology from the very start.
3.2 The Mechanics of the Springs
The tong mechanism of hair straighteners can be equipped with different technologies. Some models offer springs, which prevent that the pressure on the hair gets too strong. Other appliances will snap into place when the two elements are pressed together and thereby regulate the contact pressure. It is important that the hair strands do not get stuck in the mechanism or get pressed together too strongly. High quality appliances usually offer this spring mechanism.
3.3 The Temperature Range
The minimum and maximum temperature of a hair straightener should be around 130 to 200 degrees, to prevent hair damage and to ensure effective use. Using a hair straightener at temperatures above 200 degrees can lead to hair damage and is therefore not recommended.
3.4 Preheating Time
The average amount of time needed to heat up is around 30 to 60 seconds. At first glance, this might not seem too long, but if you suffer from lack of time, then you will definitely appreciate a fast hair straightener in the morning or before the next date.
3.5 The Panel Width
The optimum width of the plates depends on the desired application areas of the hair straightener. A large plate width, about 5 cm, ensures fast straightening results, but it can't be used to make curls. With a minimum width of approximately 1.5 cm straightening usually takes longer, but it also makes it possible to create curls. If there is any doubt, then you can always consult the instruction manual, to see if the hair straightener can also be used as a curling iron.
3.6 Keylock
Since in most appliances the switches are located very close to one another in a relatively small area, it can easily happen, that previously selected settings get unintentionally changed. A Keylock can prove very useful in these situations, since it can lock the selected settings for as long as desired.
3.7 Automatic Shut-Off
Although you can forego some technical detail for reasons of cost, the automatic shut-off is definitely something that needs to be included in every good hair straightener. Especially if you are in a hurry, it is often hard to remember, whether the device has been turned off or not. To prevent consequential damage an automatic shutdown after 30 or 60 minutes is a must when choosing a new hair straightener.
3.8 Temperature Control
A privilege of exclusive brand name devices is the temperature control. In the best case scenario the ceramic plates of the hair straightener will have multiple temperature sensors. These measure the temperature continuously and control it as desired. A processor-controlled thermoregulator and a digital display with touch keys are small, but fine details that distinguish an exclusive hair straightener. Many hair straighteners on the market provide temperatures of up to 230 or 240 degrees, however, when exceeding the limit of 200 degrees, irreparable hair damage should be expected. Here again, it becomes apparent that investing more money during purchase might prevent permanent hair damage in the long run.
3.9 The Cable Length and the Cable Joint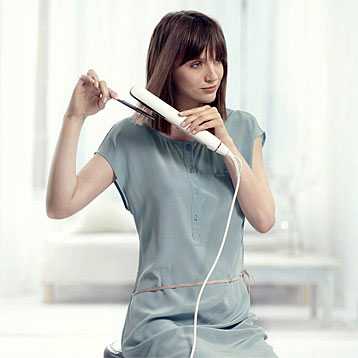 A proper outlet is not always available and for optimal use of the hair straightener some freedom of movement is always advantageous. Therefore, a long connection cable might be practical, but generally a length from 1.80 to 2.00 meters proves to be the most suitable. A joint for the cable that may be rotated 360 degrees in either direction at the device input is also important, as this may prevent twisting. This will make it possible to avoid a cable break in advance, which would lead to the quick end of the high-quality electrical appliance.
3.10 The Design
Some women prefer an attractive design for their styling appliance, while others attach great importance to the functionalities. It is therefore advantageous that many hair straighteners are available in modern designs, whether pink, black gold or white, the choice is almost too great! There are also useful designs that convince through an ergonomic shape, a non-slip grip and a reasonable arrangement of buttons and display.
3.11 The Ionic Technology
Some hair straighteners have additional features like ionic technology. This technology, which has been successfully implemented in the field of hair dryers, prevents the hair from drying out considerably during heat treatment. It also ensures that the hair does not become statically charged. This technology also makes it possible to prevent frizzy hair.
3.12 Accessories
Last but not least, a high quality hair straightener is also distinguished by practical accessories. A flat mat and a protective cover for the hot plates, both heat resistant, will allow users to safely use a hair straightener, especially when you are in a hurry.
4. How to Use a Hair Straightener
Skill comes with practice. This also applies to the art of hair styling and especially for straightening hair. But with a system and the corresponding tips and tricks straightening will soon become a matter of routine.
Step: Wash the hair and nourish it with a deep hair conditioner.
Step: Then blow the hair completely dry.
Step: Apply a heat protection product evenly throughout the hair and allow to dry.
Step: Divide the hair with a comb, brush and clips.
Step: Fix around 2/3 of the upper hair on the top of the head with clips.
Step: Separate thin strands at the bottom and place them between the ceramic surfaces of the preheated hair straightener.
Step: Close the device and straighten the hair away from the head.
Step: Use some of the heat protection spray if necessary.
Step: After all open strands are sufficiently straightened, remove another section of the hair from the top and secure the rest back on the top of the head.
Step: Proceed with this until all the hair is straightened.
Step: Then carefully fix the straightened hair with a high quality hairspray.
Important: Do not straighten the hair without washing it previously, because remains of styling products and dust particles can stick to the ceramic coating of the hair straightener. In addition, the hair should not be straightened on a daily basis in order to avoid damage. You should also nourish the hair from time to time with rich care products, such as hair treatments and argan oil, in order to keep the hair smooth.
Note: Hair straighteners can become very hot, so it is very important that you pay attention to your fingertips and scalp during styling. Even a short skin contact can cause painful burns.
5. Important Manufacturers
5.1 Braun
Braun was founded back in 1921 in the Hessian village Kronberg in Taunus. The company has made a considerable name for itself in the market of electrical appliances producing dry shavers, food processors and even hi-fi systems. Braun's appliances are known for excellent quality and modern product designs. Today the company is part of the Procter & Gamble Group. There are many hair straighteners that are sold under the Braun label, which are distinguished by their high quality features and an outstanding price-performance ratio. In numerous test results the hair straightener of the Braun brand were in the top rankings, including several times as price/performance winner.
5.2 Philips
Philips is a worldwide known electronics company, which is based in Amsterdam, Netherlands. In addition to numerous other sectors Philips is also involved in the production and sale of electrical body care products. Philips hair straighteners are available in the low to mid-price range.
5.3 Remington
Remington is a brand that belongs to the US company Spectrum Brands since 2003. The company sells mainly electrical appliances for shaving and other products for personal hygiene. There are quiet a few hair straighteners available in the lower price range under the brand name Remington, which distinguish themselves through excellent customer reviews.

5.4 ghd
Among the manufacturers of hair straighteners ghd, which is the abbreviation of the words "Good hair day", can justifiably describe itself as a shooting star. The company, which is based in Leeds (UK), was founded in 2001 in order to sell the first hair straightener of the brand. In 2013 ghd had already generated a turnover of 150 million pounds sterling. In particular, the high-quality ceramic plates and automatic temperature regulation through heat sensors are features, which characterize the hair straighteners of ghd. The product range of ghd also includes hair dryers, curling wands, brushes as well as styling and hair care products. The company ghd donates a percentage of its revenue to a foundation devoted to the fight against cancer in women.
5.5 Cloud Nine
Cloud Nine, which was founded in 2008 by Robert Powls, is the newcomer brand of hair straighteners and hair care accessories. Robert Powls was one of the founders of the ghd brand, but he started his own company in 2008. Today Cloud Nine is very well able to compete with ghd in terms of quality and the two brands already went head to head in various comparison tests. Besides hair straighteners Cloud Nine also offers curling wands, a special heated roller series, hair dryers, hair care products and a variety of accessories with professional quality.
6. At Which Temperature Can Damage Occur?
From a professional point of view, such as ghd, some information indicate that a heat load of over 200 degrees will cause irreparable damage to the hair. The area around 180 degrees provides the best results. The automatic temperature control of the hair straightener is therefore a function, which will pay off in the long run.
6.1 Consequences of Too Much Strain
Too much heat can have a lasting negative impact on the hair. A fragile structure and a rough surface can cause, in the worst case scenario, that the hair breaks off at the base or at mid-length.
6.2 What Should I Pay Attention To?
Experts therefore recommend implicitly to not straighten the hair every day, but only on special occasions. The care with appropriate high-quality care products, is also advisable. Nourishing treatments for damaged hair and massaging the hair tips with argan oil should are essentials of a good care program.
7. Possible Alternatives to Hair Straighteners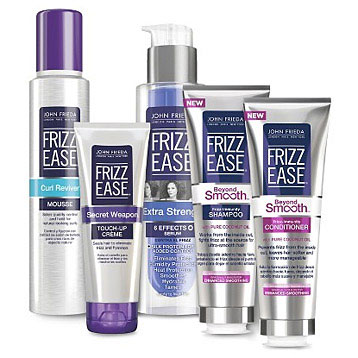 Those who have a plain hairstyle and find it difficult to give up on their hair straightener, should temporarily switch to other styling methods. There are special "Frizz Ease" hair care products such as shampoos, conditioners and care treatments, which are able to straighten the hair on its own.
The hair can also be straightened in the traditional way with a hair dryer and a brush. To achieve this, you will simply have to blow dry the hair with a thick round brush and your head down. The remaining moisture is removed by brushing and blow-drying with your head upright, after which the hair can use "Frizz Ease" hairspray to keep the hair in place. Another alternative are hot air brushes, which are commercially available as a round brush and meanwhile also as a flat brush, with a broad head. This makes it very easy to dry and brush the hair simultaneously. By slowly pulling out the brush, the hair is also straightened.
There is also the possibility to straighten natural curls at the hairdresser for a long time. The so-called keratin treatment is generally safe because it does not make use of strong chemicals. However, this must be repeated every two to three months and the cost of treatment is relatively high. Another method, the Brazilian Blowout treatment, is due to its possibly harmful and cancer-causing chemicals largely banned in Germany and Europe.
8. How to Clean a Hair Straightener
You should allow the hair straightener to cool off after each treatment and then wipe it thoroughly with a damp microfiber cloth. This will help to prevent deposits in the ceramic surfaces, which can affect the performance of the appliance.
9. Frequently Asked Questions (FAQ)
The Hair Straighteners Has a Slightly Unpleasant Odor – What Could Be the Cause?
The smell is caused by deposits on the heating surfaces, which are burned during heating. In this case it might be helpful to cool the ceramic plates and wipe them with a damp microfiber cloth. This should be done after each use, in order to protect the device.
Is It Allowed to Take a Hair Straightener as Hand Luggage on a Plane?
That depends completely on the airline, at Ryanair for example it is allowed. There are some online sites for baggage advice where such issues are clarified. However, the safest thing to do would be to check with the airline itself.
Can Hair Straighteners Also Be Used to Make Curls?
That depends on the size and shape of the heating elements. If they are narrow and laterally rounded, then it is usually possible to make curls with these devices. Generally, this is indicated in the instructions for use of the device, which can be found online at the manufacturers site.
Do I Need to Use Special Care Products if I Frequently Straighten My Hair?
Yes, it is recommended to use professional hair care products, such as high-quality salon or drugstore hair care products, on a regular basis to sufficiently nourish the hair. A care treatment, which is specially tailored to damaged hair as well as hair oil with argan oil ingredient will keep the hair healthy and supple.
Is It Possible to Burn Yourself During Application?
Yes, you can easily burn yourself while using a hot hair straightener. You should therefore pay particular attention to your fingertips and scalp. Heat protection gloves are also a good way to protect the fingers.
Do I Need a Special Hair Straightener for Thicker Hair?
The hair straightener should be set to a slightly higher temperature if you intend to use it with very thick hair, such as 185 or 190 degrees. A larger heating surface is also useful in order to keep the hair straightener sufficiently stable. It also helps to separate smaller strands, but as a consequence, it might take a little longer, until all the hair is straightened.
What Is the Difference Between a Hair Straightener and a Steam Hair Straightener?
A steam hair straightener is filled with water and uses water vapor for straightening. These devices are fairly new on the market and relatively expensive. However, there is a growing tendency towards steam hair straighteners, because these devices are much more gentle. At the same time far less strain is put on the hair, because it is not dried out during application. Nevertheless, even the steam hair straightener is not suitable for unlimited use. The hair must be pre-dried before straightening, just as you would do with a simple hair straightener. A high-quality steam hair straightener is available from L'Oreal, which is called Steampod on the market. However, with around 150 pounds this model is much more expensive than a regular hair straightener.