Gin is currently probably one of the hottest lifestyle drinks in the UK. Gin, also commonly known as juniper spirit, often contains much more than just juniper berries. It is also considered to be a very exciting and versatile spirit due to its different aromas. No gin tastes like the other. The drink can contain up to 120 different herbs, spices and other vegetable ingredients (botanicals). However, juniper is and always will be the dominant taste component in this spirit.
1. What Is Gin and What Is Gin Made Of?
By definition, gin is a neutral alcohol of agricultural origin. That would be for example grain or vodka, combined with juniper berries and various botanicals. Unlike whisky or rum, however, gin does not have to mature in barrels for years. A good gin is distilled twice and can theoretically be processed directly. Many distillers additionally store the fine distillate on stoneware barrels, others prefer glass or stainless steel to obtain even more aromas. However, there is no exact guideline for this. As already mentioned, numerous spices or botanicals are added during the production of gin. Gin is therefore divided into different types:
Juniper flavours: Gins in this category focus on the juniper berry. The spirit is often only refined with citrus notes or coriander.
Herbal aromas: Pepper notes, coriander and cardamom play an important role in the herbal gins.
Floral aromas: Lavender and elderberry are often used in floral gins.
Spice aromas: Mediterranean herbs such as rosemary or thyme are mostly used for these gins.
Citrus notes: The various citrus fruits play a special role in this type of gin. These include lemons, limes and begamot.
2. The Different Gin Types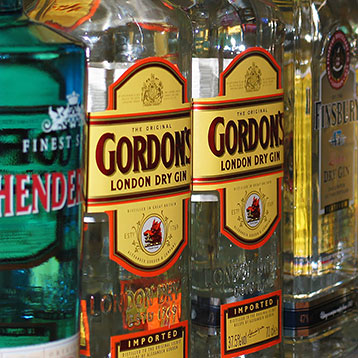 Gin is sold under different names. But only very few people know what these mean. We will tell you if the London Dry Gin comes from London and what the other names mean.
2.1 Dry Gin
The Dry Gin is named after a special manufacturing process. Nature-identical aromas and colourings may be added subsequently. Likewise, different spirits may be mixed with each other. However, the addition of sugar is prohibited.
2.2 London Dry Gin
The London Dry Gin does not necessarily have to be produced in London. Only the manufacturing method is described here. This means that the gin must have been distilled several times during production and no additional colourings, artificial flavours or sugars may be added.
2.3 New Western Dry Gin
The New Western Dry Gin is not limited to one production process. This gin is rather divided into a taste category. Gins are called New Western Dry Gin if the juniper is not in the foreground. The gins are often dominated by citrus nuances, spices or herbs.
2.4 Plymouth Gin
The Plymouth Gin got its name from a formerly protected designation of origin. The gin was only allowed to be produced in the English Plymouth Gin Distillery. Typically these gins are very mild in taste.
2.5 Sloe Gin
The Sloe Gin is not a classic gin as you know it. In the EU Spirits Regulation (PDF) it is even counted among the liqueurs due to its low alcohol content of 15 – 30%. Nevertheless he can officially call himself gin. Special characteristic is the reddish colour. It is also considered to be particularly sweet and fruity. By the way, the variety owes its name to the blackthorn berry, which some also know under the name "German Acacia".
3. Known Gin Brands and Manufacturers
3.1 Bombay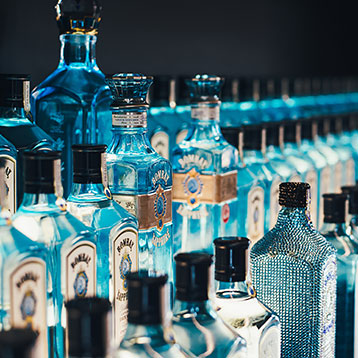 The Bombay Sapphire is a very well known gin in Europe. The gin brand, introduced in 1987, belongs to the Bacardi group. Based in Bermuda, the company sells its spirits in over 100 countries worldwide. The trademarked blue bottle of Bombay Sapphire Gin, which is produced with 10 additional botanicals, is particularly striking. The gin is also considered a particularly mild London Dry specimen.
3.2 Hendricks
Hendricks is a registered trademark for gin, which has only been in production since 1999. Manufacturer of the brand is the well-known Scotch whisky producer William Grant & Sons based in Scotland. Hendricks Gin is enriched with 11 botanicals (herbs and spices). As a result, the typical juniper aroma of gin is only weakly pronounced.
3.3 Finsbury
The Finsbury Gin is considered one of the classics on the market. The Finsbury distillery is located in the London district of Finsbury and produces the juniper spirit according to a secret recipe from 1740. 10 botanicals are also used in the Finsbury Gin. Distillation takes place in 100-year-old copper stills. The alcohol content is reduced to 37.5 percent by means of spring water.
3.4 Gordons
Gordons Gin is produced in the London district of Southwark. According to the original recipe of 1769, the juniper spirit is still produced today. It is one of the best-selling gins worldwide and has already received the international "Royal Warrant" award four times. The gin has an alcohol content of 37.5%, 10 botanicals and it is also relatively inexpensive.
4. Gin as a Gift Idea
For a long time, gin was regarded as boring spirit and was seldom stirred. For more than 15 years, juniper spirit has become more and more popular and has been given away more often ever since. Gin tasting sets are a practical way to taste small quantities of different sorts. With classics like a Hendricks Gin or a bottle of Monkey 47 you certainly don't do anything wrong. Anyone who likes to be at tastings should grab their favourite and stop by at the gin tastings all over Great Britain. You'll also learn a lot here and can try out many different varieties.
5. Mixed Drinks With Gin and How to Drink Them
5.1 Gin Tonic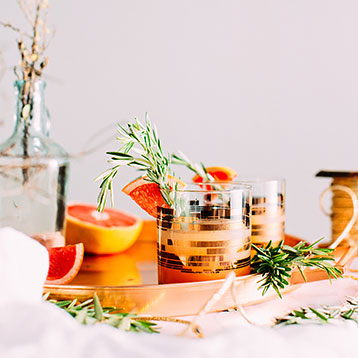 Gin and Tonic is the most popular long drink for gin lovers. The perfect mixing ratio between the two components is not fixed. Depending on taste it should be between 1:1 and 1:4. By the way, a low drinking temperature and a low melt water release are decisive. The glass can be cooled in the refrigerator or by ice cubes. A Gin Tonic is traditionally decorated with a fresh slice of lemon, lime or cucumber.
5.2 Gin Basil Smash
The Gin Basil Smash is probably the hottest gin cocktail at the moment. It is quickly produced, tastes delicious and looks particularly fresh due to the basil. The cocktail fits perfectly into the warm season. You need 6 cl gin, 10-15 leaves basil, 2 cl lemon juice and 2 cl sugar syrup. The sugar syrup and the basil should be put into a shaker at the beginning and crushed with a pestle. Then add the lemon juice, gin and ice cubes and shake vigorously. Fill the drink including the ice cubes into a suitable glass (tumbler) and add a basil leaf to the edge of the glass.
5.3 Gin Gin Mule
The Gin Gin Mule is an extremely successful cocktail with ginger beer by Audrey Saunders. In the New York cocktail scene, more and more people in the UK are drinking Gin Gin Mule. To this end, 4.5 cl gin, 6-8 firsche mint leaves, 2.5 cl lime juice, 3 cl sugar syrup and 3 cl ginger beer are required. Similar to Gin Basil Smash, the fresh mint, lime juice and sugar syrup are put into a shaker and crushed (muddled) with a pestle. Gin and ice are then added and shaked vigorously. The cocktail and the ginger beer are then combined in a glass through a bar strainer. Finally, a leaf of mint is fixed to the edge of the glass as decoration.
6. Frequently Asked Questions (FAQ)
What Glasses Do You Drink Gin From?
Of course, that depends on the final drink. With a Gin Tonic and a tonic mixing ratio of 1:1 or 1:2, a tumbler glass is suitable in which the aroma of the gin is in the foreground. With lower mixing ratios of 1:3 or 1:4 a slightly higher Highball glass fits very well.
Who Is the Winner of the World Gin Award?
At the World Gin Awards, the best gins are selected annually by a jury of specialists. In 2018 the Hernö Old Tom Gin was the winner. The gin convinced the testers with its sweet and rounded taste with complex notes of pine, honey and spices. The bottle costs about 40 Euro with 0,5l filling and comes from Sweden.
Is There Alcohol-Free Gin?
There really is one! The drink called Seedlip is a non-alcoholic "spirit" from Great Britain. It is supposed to be a kind of gin that does not get drunk. Technically it is of course not a spirit. Seedlip is distilled water.
Is Gin Healthy and Suitable for Allergy Sufferers?
No, of course gin is not healthy. It is a spirit containing alcohol. For allergy sufferers who do not want to do without a sip of alcohol, gin may be better than beer or wine. Clear alcohols such as gin or vodka have significantly fewer histamines and sulphites, which aggravate allergic reactions. In general, however, allergy sufferers should refrain from drinking alcohol, because the consumption increases the symptoms even more.
Where Does Gin Come From?
Already around the year 1000 after Christ there was first evidence for experiments with alcohol and juniper. Whether the mixtures were used thereby as benefit or remedy is not completely clear thereby. However, the doctor Franciscus de la Boë, who invented the juniper spirit called Genever, is regarded as the forefather of gin. The Dutch doctor's patients used genever less for medical purposes than as a stimulant. Around 1689 Genever became known in England and was soon renamed gin.
What Is the Average Percentage of Alcohol in Gin?
According to the EU regulation, a gin must have at least 37.5% by volume. Most gins, however, are slightly higher in the range of 40 – 49% vol.
How Many Calories Does a Normal Gin Tonic Have?
An exact reference value cannot be determined here. Gin and also tonic have simply too many variants, why the calories differ. An average glass of Gin Tonic with 200 ml filling has between 135 and 150 kcal.
Gin and Cucumber – What Is It All About?
Before the turn of the millennium, virtually nobody drank a Gin Tonic with a slice of cucumber. The trendsetter was Hendricks Gin, which is not only flavoured with normal botanicals but also with cucumber and roses. This gave clever barkeepers the idea of garnishing the drink with a slice of cucumber.
Is Gin Tonic Vegan?
Let's take the two components apart. Tonic is a refreshing drink containing quinine, which belongs to the bitter lemonades. Quinine is extracted from the bark of trees and is therefore unproblematic. Other ingredients such as sugar, herbs or sweeteners are usually vegan. Gin is distilled from starchy raw materials and is vegan in most cases. In individual cases, however, gin may not contain vegan additives such as honey or the like. Here only the view of the contents materials helps.
How Long Is Gin Durable?
Beverages with an alcohol content of at least 10 percent do not have a best-before date. According to the EU spirits regulation, gin must not contain less than 37.5 percent alcohol and can therefore theoretically be kept forever if the bottle is unopened and undamaged. However, after years of storage, the original taste may evaporate.