Dental health has a holistic effect, because the teeth as a visible sign of vitality are a distinctive feature of humans. The last three decades have brought immense progress and nowadays many treatments are based on scientifically proven data. A "preservative tooth treatment", which focuses on the maintenance of the patients teeth, is the result of this. Since teeth are no longer pulled or overcrowd after a simple indication, the focus is shifting inevitably towards comprehensive dental care.
As in other areas of life, there is no all-purpose remedy in this regard. It is necessary to act individually according to a number of factors and to use the appropriate equipment. The right toothbrush is essential – electric toothbrushes allow an efficient care just like a professional treatment at the dentist, but there are sometimes serious differences, which need to be considered. We will address the specific properties in the following paragraphs and provide information on all relevant comparison features.
1. The Beginnings of the Electric Toothbrush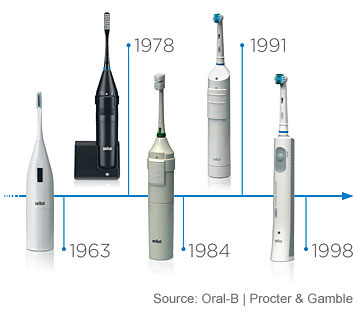 Although electric toothbrushes have been known to a wide public since the 1990s, the first practical models were already available at the beginning of the 1960s. Oral-B conquered with the model "Mayadent" a growing market that documented a deeper understanding of dental health in general. However, models of the first generation were considered unhandy, impractical and not very useful. It was not until the end of the 1970s, when a series of product innovations ensured significant improvements, bringing the electric toothbrush back into the focus of public attention. Rotating brush heads were now able to remove significantly more plaque and reach difficult areas, which completely overshadowed hand toothbrushes.
Battery powered models were gradually introduced to the market, which had the ability to control their cleaning power, thus avoiding a rapid gum irritation. Since then, oscillating-rotating brush heads have been the focus – small, fast-moving circular movements in both directions. Now even people with poor motoric skills could benefit from electric toothbrushes, because the cleaning technique was practically dictated by the model. In the course of time, piezoelectrically operated toothbrushes were introduced to the market, which clean deposits by means of opposite poled bristle vibrations at high frequency ranges without exerting pressure.
The latest innovation, however, comes in the form of sonic brushes, which allow roughly five times as many vibrations per minute (40,000 oscillations) as oscillating-rotating models. There are even ultrasonic toothbrushes that allow up to 1.6 million vibrations, whereas no direct tooth surface contact is necessary.
2. Rotation vs Sonic – the Different Toothbrush Types
2.1 Rotating Toothbrushes (2D)
This type of electric toothbrushes is based on one or more brush heads, which rotate around their own axis. It practically represents a basic model, which is nowadays only commercially available to a limited extent. A certain level of manual skill would be required here.
2.2 Rotating/Pulsating Toothbrushes (3D)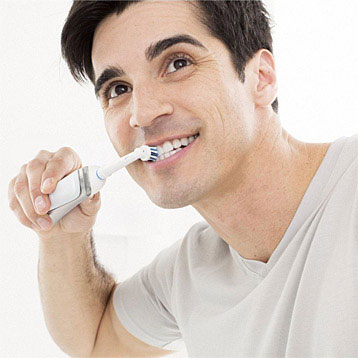 Also known as oscillating-rotating toothbrushes, this construction type is still the "classic" model amongst electric toothbrushes. The focus lies in the arrangement of the toothbrush, which is alternately set in left-right movements. The brush head is rounded and applied at high frequency on the teeth. They are proven to remove a large amount of plaque, but require some skill. Just like hand toothbrushes, they have to be used "carefully" depending on the tooth structure and the condition of the teeth. Everything is done via pressure, which in reverse function also effectively removes resistant plaque.
These models are already available for a small price, however, they still offer a good and proven cleaning. Follow-up costs are very likely, since a regular replacement of the brush heads will be necessary. The above risks due to incorrect cleaning techniques can be reduced to a minimum through exercise and instructions from the dentist (comparable to manual toothbrush).
2.3 Sonic Toothbrushes
Sonic toothbrushes have existed since the beginning of the 90s, which we have already described above as "piezo-electric" toothbrushes. Vibrations are generated around the bristles through the use of sonic technology, which range from 30,000 to 40,000 movements per minute (pulses). As a result, the bristles "float" over the teeth and gum, exerting no pressure. This results in a steady cleaning process, which also effectively cleans the Interdental spaces. Such models are particularly advantagous due to the significantly lower risk of enamel or dentin abrasion.
This cleaning technique is especially relevant, because only slight pressure is applied to the gum. This prevents chronic gum injuries and also reduces the risk of a gum recession. An increasing number of older people are affected by this, which not only results in aesthetic problems, but also in factors that affect the Periodontium.
2.4 Ultrasonic Toothbrushes
The ultrasonic toothbrush represents a specification of the above described toothbrush. The sonic frequency is at least 20,000 hertz, which corresponds to 2.4 million vibrations per minute. There are even models with significantly higher performance indicators with up to 1.6 MHz, which corresponds to 192 million vibrations per minute. Piezo-ceramic oscillators are generally used to achieve this. Such models usually offer an adjustment to "classical" sonic components and sonic frequencies.
They are priced well above normal commercial toothbrushes, although there are no scientifically based statements about the "enhanced cleaning performance". In addition, many users find the operating volume very annoying.
2.5 Operating Types in Comparison

Manual Toothbrush
up to 300 Strokes per min
2D Rotating Toothbrush
(oscillating-rotating)
up to 7,600 Rotations per min
3D Rotating Toothbrush
(oscillating-rotating-pulsating)
up to 8,800 Rotations and
up to 40,000 Pulsations per min
Sonic Toothbrush
up to 62,000 Movements per min
Ultrasonic Toothbrush
up to 1,600,000 Movements per min
3. Electric Toothbrush vs Regular Toothbrush
3.1 That's What the Experts Say
As with other technical innovations, experts have been divided for a long time on the topic of "electric toothbrushes". The foremost concern were the already mentioned risks: gum injuries, gum recession, loss of tooth enamel (abrasion) and the like. But all these factors are always subject to human influence, namely a wrong or correct application.
In fact, a meta-study carried out by the Cochrane Collaboration suggests that electric toothbrushes achieve a significantly better cleaning effect compared to manual toothbrushes. Specifically, there were 51 individual studies in which 4,624 people participated. The removal of plaque and gingivitis (gum inflammation) was significantly better.
Basically only oscillating-rotating toothbrushes and "simple" sonic toothbrushes are scientifically researched. They can be easily integrated into the daily routine, they have a more intuitive control and, if used correctly, do not have a higher risk of injury than commercial manual toothbrushes.
3.2 This Is What Stiftung Warentest Says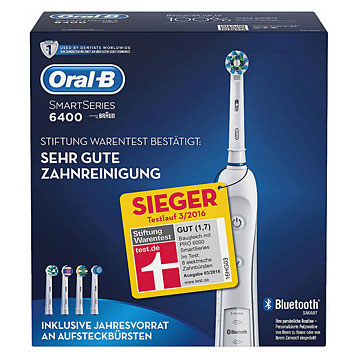 The German consumer organisation Stiftung Warentest essentially divided the tested products into oscillating-rotating toothbrushes as well as "sonic active" toothbrushes. Again, no clear features were recorded in these tests, which would show advantages over one of the mentioned model types.
It is, however, very well advised to carry out the selection of the electric toothbrush according to personal cleaning behaviors. A round head brush usually requires a more active approach by the user, since each tooth has to be cleaned separately. On the other hand, sonic brushes allow a greater cleansing treatment, due to the longer brush heads.
The crucial question to ask yourself would be, what is more important for you in terms of dental care. If prophylaxis results in a regular follow-up care, which means that only a part of the Periodontium is actually cleaned, then a sonic toothbrushes might be the best option. If, on the other hand, the technique is "basically" mastered, it is rather a question of difficult Interdental spaces or the care of the denture, which is why the use if oscillating and rotating toothbrushes is recommended.
4. Important Equipment Features
After we have clarified the fundamental differences regarding the types of toothbrushes, we are now dealing with practical concerns. What do you need to consider, when it comes to comparing several electric toothbrushes? Which features have a bigger benefit compared to other functions? The most important features are the following.
4.1 Rotations/Vibrations
The stated number of rotations or vibrations per minute gives you an rough overview, but does not allow any significant conclusions initially. It is rather about the type of toothbrush, such as oscillating-rotating or sonic-based. In short, a "fast" toothbrush does not necessarily result in a better cleaning performance. However, it is clear that sonic brushes are much in accordance with the natural movements of a hand toothbrush. Changing to this type of toothbrush would, in principle, be simpler. Due to the vibration, there are inevitably more oscillations, so that a more gentle cleaning is ensured.
However, investigations indicate that ultimately rotational movements develop a better cleaning effect even in the case of persistent plaque. Nevertheless, there is also the natural risk of exerting too much pressure, thereby damaging tooth enamel and gum.
Whether 5,000 or 35,000 rotations per minute, is once again a question of cleaning techniques and therefore highly subjective.
4.2 Various Cleaning Modes and Timers
Depending on the model and manufacturer, there are certain types of brushing modes, regardless of the toothbrush type. First and foremost, there is a standard timer, which does not require a constant time comparison. The market offers products with an acoustic quadrant timer, which displays the change of the jaw quadrant every 30 seconds. Others modes, like the Smart-Timer, indicate the end of the recommended tooth brushing after two minutes. High-quality products combine both functions.
There are also special cleaning programs that can be set up. Thus it is possible to select programs such as "sensitive", "gum protection" or "cleaning" according to your needs. The device can then be used in an adapted performance mode, depending on the selection.
4.3 Pressure Control/Pressure Sensor
In order to reduce risks during the use of an electric toothbrush, well-known manufacturers now offer toothbrushes with integrated pressure control. Pressure sensors are installed for this function, which constantly measure date during brushing and give a signal when the pressure is too high. There are usually two types of this control function.
Visual pressure control
If too much pressure is exerted during cleaning, then a signal lamp will light up on the handpiece. At the same time the device throttles the pulsation, i.e. the vibrations per minute. The device will start to work "normally" again, if the pressure has been reduced and the risk of gum damage has been averted.
Sensitive pressure control
With this variant, an excessively high pressure is not only displayed, but also leads to a complete interruption of the rotations at the same time. This way, you can avoid the possibility of overseeing or overcoming possible signals even in hectic situations.
4.4 Scope of Delivery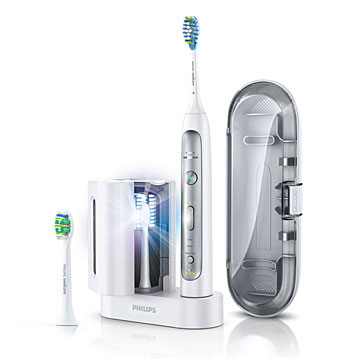 The heart of the device are the replaceable brush heads, wich are classic wear parts. Just like simple manual toothbrushes, these must be replaced after a certain period of time. For this reason, typical follow-up costs apply to replacement brushes. The scope of delivery usually includes several replacement brushes. It is possible to use replacement brushes for different devices within the manufacturer's own range of products. In short, a household does not necessarily have to purchase an electric toothbrush for each person separately.
In the course of digitalisation, there are also products with so-called "SmartGuide" on offer, in other words an innovative display indicator. The change of the cleaning process, pressure warnings, set cleaning modes or the current cleaning duration are all displayed here. This display is attached to the wall and can make the transition much easier for beginners.
A separate storage box would also be very useful if you are traveling frequently. This will help to eliminate bacterial causes, especially when it comes to storing the brush head.
4.5 Additional Functions
There are also increasingly more product lines on offer, which are designed for specific user groups. Connectivity is enabled by default via Bluetooth or an app, even in the range of toothbrushes for kids. This is useful especially for control and comparison, regardless of age. Certain product lines, such as the "Genius" models from Oral-B, have an integrated position recognition technique. This feature makes it easy to see which areas have been cleaned for how long. It is also possible to adjust individual cleaning times, in order to clean dentures more carefully.
In addition, high-performance batteries based on lithium-ion technology are offered. Mobile charging stations are convinient travel companions, even without a constant recourse to electrical power. Advice on proper brushing can also be provided via features such as the 360-degree SmartRing, a feature of the high-quality Oral-B Genius products. By displaying different colours and linking to other functions, individual care instructions can be used.
5. Important Manufacturers
5.1 Oral-B from Braun
Oral-B from Braun is one of the market leaders in the segment for electric toothbrushes, the company operates worldwide and was founded in 1950. It is a part of Procter & Gamble and is known for its innovations, such as digital control functions for toothbrushes or particularly effective brush heads from the "Genius" series.
5.2 Philips
Philips is particularly active in the area of sonic toothbrushes and models from the "Sonicare" series are recommended by dentists worldwide. Depending on the requirements, there are special product specifications such as "DiamondCare" or "FlexCare Platinum", which balance irregular cleaning habits.
5.3 Panasonic
Panasonic is a proven manufacturer of sonic toothbrushes in any price range, which are known for long battery life and intuitive features. The most important products are sonic toothbrushes such as the "EW-DL83" or the family set "EW1031CM".
5.4 Emmi-dent
Emmi-dent offers products from the range of ultrasonic toothbrushes, which are suitable for experienced users. The German company is well-known for its innovations in the field of micro-cleaning processes, which produce up to 96 million vibrations per minute.
6. Electric Toothbrushes for Children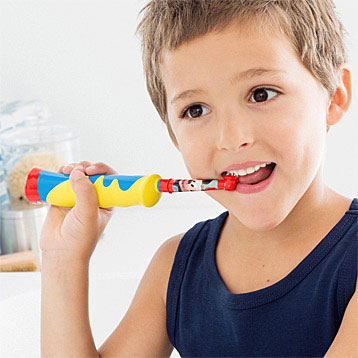 The advantages of an electric toothbrush are outstanding, especially since at the beginning of the 1990s a new generation was brought onto the market. Modern devices can be controlled simply and intuitively, so that even problem areas can be safely reached. However, this requires a certain amount of exercise, especially if children are to benefit from these advantages as well. Electric toothbrushes reduce to a certain extent the risk of not completely and properly cleaning your teeth. For this reason, they are also suitable for younger people.
A child will be able to handle an electric toothbrush, once it has learned to write fluently.
Prior to this, it is important that tooth brushing becomes an established routine of the day and that the difficulties regarding insufficient oral hygiene are addressed as well.
On the other hand, practical things have to be considered, especially with regard to the handiness of the device.
Electric toothbrushes for children need to have a specially shaped handle, which allows for a safe and not too heavy handling.
Knobbed or rubberized surfaces are useful for the handpiece, so that it can not slip even under running water.
There are correspondingly smaller versions for the brush heads, but softer and more rounded brushes are important, in order to reach even difficult areas.
Additional functions such as certain coloured attachments, signal tones and the like, help to achieve the correct brushing tempo.
7. How to Clean the Toothbrush Properly
Just like simple manual toothbrushes, the head part is a neuralgic point. In the event of improper care, bacteria is able to develop, and worn out brushes are no longer effective.
Rinse all residues of toothpaste and plaque, which are located between the bristles, with warm tap water after cleaning.
Immediately dry out in the air and only put the toothbrush into the storage box afterwards. Moisture would otherwise promote the growth of bacteria.
8. Correct Application – Cleaning Your Teeth Properly
8.1 Application for Round Headed Brushes
Do not use round headed brush until the toothpaste has been applied and placed in the mouth and in contact with the tooth. The correct brushing movement is performed by the toothbrush itself. You only need to move the electric toothbrush at a small angle from tooth to tooth. Less is more, which applies above all to the exercised pressure.
A uniform procedure, in other words from upper to lower jaw and from quadrant to quadrant, favors a comprehensive dental care. Two times a day for two minutes is recommended here. Keep the toothbrush horizontal, proceed evenly along the gum line and reach the Interdental spaces with different angles. Similar procedures should be carried out on the inside, however, the incisor teeth should be cleaned slightly longer (more thorough). Otherwise it would be too easy for dental calculus to deposit again.
8.2 Application for Sonic Toothbrushes
In the case of sonic toothbrush, larger surfaces can be cleaned, in principle, at the same time. A 30 second window is often planned for each quadrant, visible by characters or a short pause. A 45 degree angle to the gum line is recommended without exerting a significant pressure at the same time. Otherwise, it is necessary to reach each area and let the brush do its work at the appropriate angle for a certain amount of time.
9. Frequently Asked Questions (FAQ)
How Often Should You Change the Brush Head?
Bristles become frizzy with time and tend to lean sideways. It is evident that a clean and safe brushing is no longer possible. The basic rule here is to exchange the brush head every three months. However, depending on whether a lot of pressure is exerted, one can already detect frayings beforehand. In this case, a more regular rotation is recommended.
Can I Store My Electric Toothbrush in the Hand Luggage During a Flight?
Clear answer: Yes. This is a normal electrical device, which can easily be stored in the hand luggage. Depending on the situation, it can even be useful, because certain batteries, including lithium-ion batteries, must not be stored in the checked luggage.
Is the Electric Toothbrush Also Suitable for Braces?
Yes, however, specially designed attachment are necessary for this. Many manufacturers also recommend cleaning only in the "Sensitive" care mode. This makes it possible to clean individual wires as well as pins.
Can I Replace the Batteries of My Electric Toothbrush?
No, because the batteries are usually specially sealed and make a handy replacement almost impossible. However, it would be possible to do so via soldering, but the manufacturer's guarantee could be affected. In case of doubt, it is always worthwhile to ask the manufacturer for a suitable replacement.