Modern earphones offer an intuitively coordinated sound experience and a high wearing comfort at the same time. Their design is based on the principle of extensive shielding against ambient sounds so that a powerful bass can be achieved despite their small size.
Earphones unite the technical possibilities in the smallest possible space but are always seen as accessories due to their partly futuristic design. Especially with regular exercise characterized by fast movement sequences, earphones prevent them from falling out and having to be inserted again. The following section explains what is important when buying such in-ear headphones and which are the most essential features and criteria.
1. What Are Earphones?
Earphones are specially designed headphones that are anchored relatively deep in the ear and therefore absorb a high degree of ambient noise. Consequently, they guarantee a particularly intensive sound experience in a relaxed atmosphere at home but are also a useful companion in sports or outdoor activities.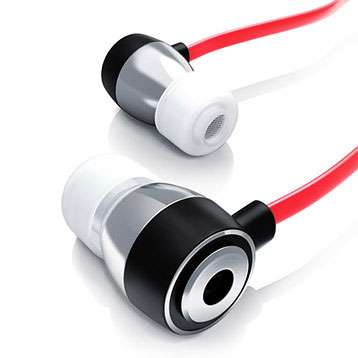 There is a fundamental distinction between wired earphones and special Bluetooth in-ears. The first model is the classic version and is particularly suitable as a peripheral device for smartphones, Hi-Fi systems, and other uses. The headphones based on Bluetooth technology are designed for mobile use, especially in sports and other outdoor activities, and are partly priced significantly above the standard version.
In Short – the Most Important Facts at a Glance
Wired earphones are the most frequently produced, and they are by far the earphone with the highest sales volume. This results in a broad price range, which makes high-quality technology affordable for a small price. They are equipped with a 3.5mm jack as standard, which allows them to be used in a wide variety of devices.
Bluetooth earphones are the ideal choice for excessive mobile use in feedback to terminal devices such as smartphones or tablets. The high penetration of Bluetooth technology and the proven transmission technology lead to a wide range of possible uses. Two mutually compatible plugs are the externally visible contact points – battery and wireless technology in one, power source and signal processing in the other, wired plug.
Wireless earphones: Recently, there has also been a completely wireless version of in-ears, in which the battery and wireless technology are built into both plugs. However, they are only offered by a small number of manufacturers, are significantly more expensive in price and have considerably shorter running times and battery capacities. Therefore, they are not part of this purchase advice.
2. The Pros and Cons of Earphones
In comparison with the two other designs, which have corresponding market penetration, the significantly smaller design is particularly noteworthy. Earphones do not require a special holding bracket as classic on-ear, or around-ear headphones do, nor do they require gentle head movement when in use. They are small, low weight, and handy so that any music enthusiast can wear them without any problems. This means that they can be used for longer durations without the need for constant re-inserting and adjustment. The headphones mounted in the ear also allow you to sit and lie in a relaxed position without any restrictions.
However, not every ear is suitable for use with in-ears because of its size and shape. This is especially the case with very small ears and missing support due to the shape of the earlobe. This can be remedied by various rubber attachments that allow for a smooth insertion in different sizes. This means that most earphones can easily be worn with hats, caps and other headgear – inconspicuously and with rich sound experience.
3. Important Feature Details
There are sometimes significant differences between the individual manufacturers, which are by no means marginal. This is due to the use of special materials, the control of sound transmission or simply different approaches in the combination of design and functional construction. The following paragraphs list the most essential features and assist in making a purchase decision.
3.1 Fit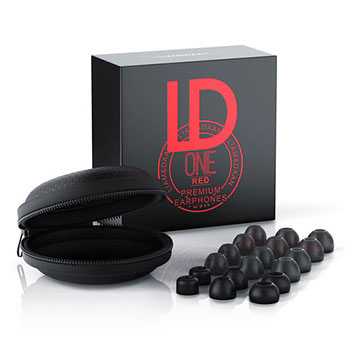 This is undoubtedly one of the crucial details because without a comfortable and secure grip it is not feasible in the long run. Since there are practically no "standard sizes" regarding ear sizes, and since everyone has their own idea of "proper wearing comfort", most in-ear headphones come with several ear cushions in different sizes.
These are typically silicone ear adapters, especially in the shape of an umbrella. They are suitable for most people, are extremely easy to clean and available in various sizes and lengths. Placing several umbrellas on top of each other in graduated sizes creates the so-called tree shape. They are silicon-based and suitable for secure insertion and somewhat angled ears that are challenging to penetrate.
Some ear adapters are made of foam so that the headphones can be anchored firmly in the ear. Foam can only be compressed with considerably less resistance so that this type of cap is particularly suitable for high-motion sports and less sensitive ears.
3.2 Microphone for Voice Calls
High-quality earphones have an integrated microphone, usually located underneath the right plug. Analogous to this, a control element is generally located underneath the left plug, which, in addition to volume control, also enables the control of incoming and outgoing voice calls. If the headphones are used during sports or outdoor activities, and someone is calling on the smartphone, the call can be answered and ended by merely pressing the button. This avoids inconvenient pausing, pulling out the jack plug and interrupting the exercise.
3.3 Remote Control
This is an important but not necessarily essential feature that can be of particular interest when using a peripheral device via an adapter (smartphone, tablet). A remote control can conveniently control music playback, volume control and other functions at a distance from the smartphone or tablet. Particularly suitable for use with Bluetooth in-ear headphones, it is also compatible with other household Hi-Fi devices.
3.4 Cable Quality and Length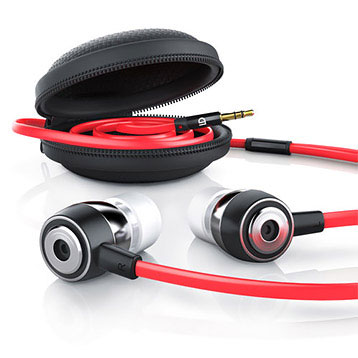 Since wired earphones continue to be by far the most common design, this is also one of the typical problem areas in practice. Headphones are subject to constant stress, especially when they are attached to smartphones in your pocket or continuously used by other devices. The following principle applies: The smoother the cable, the better. This can prevent the wires to form a cable tangle in trouser or jacket pockets that could inevitably lead to malfunctions over time.
The cable length also plays a role where in-ears are used mainly for sports. Cable lengths that are about ¼ to ⅓ longer than necessary for the regular use and distance (pocket to ear) provide sufficient freedom of use.
3.5 Holding Brackets, Connecting Parts and Other Accessories
Some areas of use are associated with fast and hasty changes in movement and can only promise a limited fit with simple in-ear headphones. Precisely for this purpose, many earphones come with a neckband (commonly used in sports) included as standard or it is available as an accessory. Usually, these are available from a manufacturer for all offered and compatible models, in some cases, third parties also offer universal neckbands.
It may also be useful to consider the possible adapter parts when using different devices, such as smartphones, stereo systems, and other systems. The 3.5mm jack plugs are built in as standard, and they are suitable for a variety of peripheral devices (computer, smartphone, etc.). Stereo systems, as well as mixers and other systems, require 6.3mm jacks or other attachments. If the headphones are to be used for this purpose, is essential to check the compatibility and possible adapters in the scope of delivery.
4. Major Manufacturers
4.1 Bose
Bose is a long-established US company from the state of Massachusetts. It is associated with many different consumer electronics products and regularly ranks among the leaders in opinion surveys. The brand is also associated with the attributes "quality", "luxury" and "high-tech".
4.2 Beats by Dr. Dre
Beats by Dr. Dre is a US-based company that is particularly well known in the segment of high-quality headphones. Its market share in its home country, which is also one of the most important markets in general, is over 50 percent. Beats by Dr. Dre combines an extremely bass oriented, powerful and controllable reproduction of musical elements. The models "Beats Studio" and "Beats Solo" are the flagship models of this young company.
4.3 Apple
Apple is one of Silicon Valley's core companies and has earned a reputation as a world-renowned innovator through its MacBook and iPhone. The products of the Californian manufacturer are characterized by a simple and intuitive control and a high-quality and timeless design.

4.4 Sennheiser
Sennheiser is an "original German" company from Lower Saxony, which is known worldwide as the "Hidden Champion". The company is usually associated with ultra-modern automotive technologies but has also made a name for itself in the headphones segment for some time. Independent tests regularly rank the company's products among the best.
4.5 Panasonic
Panasonic is a Japanese company that has been operating since 1918 and is known throughout the world for its mass-produced consumer electronics. Televisions, in particular, are a focal point, but the company has recently also increasingly focused on the headphones segment. Modern technology, high-quality workmanship and moderate price ranges are the essential characteristics of the brand.
5. Active Noise Reduction – Noise Cancelling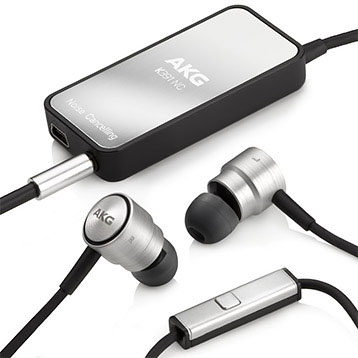 Noise cancelling is a feature to preserve the original sound of the played audio files. In this form of active noise reduction, microphones used in the vicinity of plugs serve to absorb ambient noise. These ambient noises are absorbed, inverted electronically and extensively eliminated in the next step. The contained interference and sound waves allow an intensive immersion and fusion with the optimized sound reproduction of the piece of music.
In practice, however, this principle only works in combination with an increased energy demand, which then requires an additional battery or a higher battery capacity. There are also difficulties due to the type of frequency. The processing of particularly simple, low and monotonous frequencies is possible. However, tests have shown that sudden and bright noises cannot be adequately detected and masked. The same applies to a constant level of noise, which can only be perceived by very few people but can also restrict the listening experience.
Conclusion: Active noise reduction is the technical counterpart to the classic closed headphones, which can achieve this much easier due to its natural design. Technology has by no means yet penetrated the market to the point where we can speak of a tried and tested feature – nothing but the practical test itself replaces a comparison here.
6. How to Clean Earphones
Compared to on-ear headphones, which do not have any considerable contact with the inside of the ear, in-ear headphones require regular care. Earwax, a natural type of protection for the body, is naturally much easier to collect here. However, there is one principle that should be considered before getting started: Earphones are extremely sensitive to water and moisture. Furthermore, certain chemicals can have an adverse effect on the functionality of the plugs.
If possible, remove the cap in a first step. This makes it easier to handle the small elements. In the case of foam caps, use as little water as possible. However, if silicone caps are used, the coarse cleaning can be carried out with lukewarm water and the fine cleaning with small cotton swabs.
Some models are made of sturdy material, so that coarse buildup can easily be removed by applying compressed air.
It is particularly important to be extremely careful with dirt behind the grate. You can use small elements, possibly toothpicks, in combination with little hot air.
In general, a small amount of disinfectant can be applied in most cleaning steps. It is, of course, recommended if several people use these headphones.
7. Avoid Cable Breakage – How It Works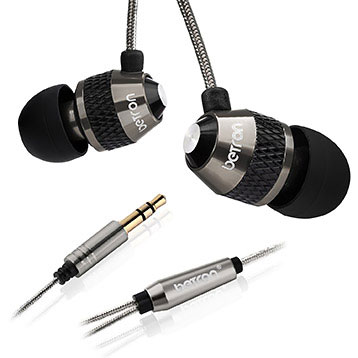 A cable breakage is a central problem, as it has a significant effect on the functionality of the earphones. Music is not played consistently, and certain sound effects appear dull and "hollow".
In most cases, this is caused by a cable break, which is mainly because too much pressure is exerted on contact points on a regular basis. Constant detangling of knots, a less than optimal fit in the trouser pocket, frequent changing of the adapter – all these factors have a similar effect on the structure of the cable that suffers from it.
Only use minimal pressure when disentangling knots, as otherwise enclosed contact points, will be further damaged.
To avoid cable tangled cables and the risk of having to disentangle the cables, the correct wrapping must be done using the "devil horns". Also known as the "rocker sign", clench a fist while extending the index finger and little finger. Then the cable can be knotted evenly and in the form of an eight around these two contact points, whereby the end piece is twisted through the middle of this winding until it is firmly fastened.
In other cases, cables can also be simply wrapped around the end device itself, and peripheral devices can also be used as contact points. The most important thing is that the cable can be unraveled without any problems.
8. Frequently Asked Questions (FAQ)
Are Earphones Suitable for Sports Activities?
Absolutely, this is mainly due to the individual fixation inside the ear. By means of different caps, anyone can apply a certain pressure at will, which can be increased depending on the area of application. Abrupt movements and suchlike leave the plugs securely anchored in the ear. If required, certain models can also be fitted with neckbands, which can be fixed and conveniently positioned and are particularly recommended for Bluetooth in-ear headphones.
Earache with Earphones – What to Do?
The design of in-ears causes earwax to be pressed into the ear canal due to its relatively firm anchoring in the ear. This can cause bacteria and fungi to spread, which in turn cause inflammation of the ear canal. The typical symptoms are earaches and pressure pains that occur when touching or pulling on the earlobe. It is not uncommon for secreted liquids to occur.
An indication may be that the caps are too small, or that the silicone or foam caps are not adapted to the shape of the ear. Replacing the headphones with smaller ones can help, but also the excessive use of the in-ear headphones can cause pain – regular breaks or changing between headphone styles are recommended.
Are There Earphones with Replaceable Cable?
As explained by the above guide, the cable is sometimes the weakest part of the headphones. At the same time, a defect in this area often leads to an unusable headphone itself – care and careful handling are self-evident. However, there are also models with interchangeable cables, which are often mid-range models. This has the advantage that one of the most important wearing parts can be replaced in an emergency and the headphones have a longer service life.
How Harmful Are Earphones?
The basic function of earphones is that as much sound as possible is transmitted directly into the ear canal. This results in the risk of damaging it permanently by playing music too loudly. Generally speaking, a volume of 85 decibels or more is assumed to have a damaging effect on the human hearing. The more often and longer a person is exposed to this strain, the more severely the hearing is damaged. It is therefore important to listen to music only in a reasonable decibel range.
Products from European countries are limited to 85 decibels for smartphones and MP3 players, see European Commission press release. However, there are only inconsistent requirements for products from third countries, with a limit of 110 decibels for the most part. Please be cautious, as there is generally no limit with music systems.
There are also risks due to the build-up of earwax, which is why regular cleaning is recommended. You should select a cap that provides sufficient support and has a buffer between the lower ear canal and the playback element.
Is It Worthwhile to Repair the Headphones?
The risk is not worth it in most cases, as a long-term replacement is relatively affordable due to the low price level. The situation is quite different with more expensive high-tech headphones, where the manufacturer's guarantee or warranty may apply. However, the most critical measure against rapid wear and tear is regular maintenance, as shown in the course of the guide.