The absence of cables primarily characterizes the use of a Bluetooth speaker. The power is supplied via rechargeable batteries and the connection to the playback device is made via the Bluetooth radio system. Impressive sound quality and long battery life make the speakers stand out and allow flexible use indoors and outdoors at any time of the day. Many devices are now technically advanced enough to cover larger rooms and outdoor areas, and the coupling of several devices can in some cases increase the amplification. High-quality devices with powerful speakers are more expensive, and the battery life is not unlimited.
1. Important Equipment Features
1.1 Built-in Speakers
The speakers must also be adapted to the existing conditions because of the limited space and the fact that all technical components are accommodated within a relatively small device. Nevertheless, most Bluetooth speakers are stereo devices that reproduce sound in two tracks, creating a pleasant sound experience.
The overall sound experience depends on the equipment of the speakers. Since smaller devices naturally offer limited space, the potential is lower than with larger devices. However, even larger devices with poorer technology can provide a rather below-average sound experience. Thus, the sound quality is ultimately dependent on the mixture of size and quality of the built-in technology.
1.2 Performance and Volume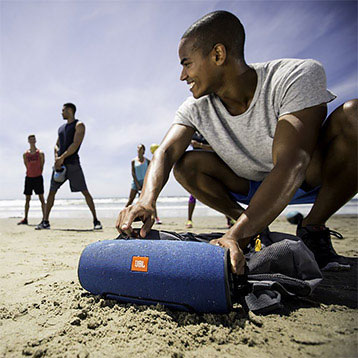 The wattage is particularly crucial regarding performance, as it has a direct effect on the volume of the devices. Low performances are in the range of up to five watts and offer a relatively limited utilization potential. Such volumes are only suitable as background music and in small rooms with a low noise level. Speakers with up to 20 watts of power offer a few more possibilities, as they can be used to entertain larger rooms as well.
However, loud music can only be played back with Speakers with up to 40 watts, as they can be used specifically in larger rooms. The use of the speaker is virtually unrestricted if the power output reaches up to 60 watts. More than 60 watts are only needed at large parties and can be used efficiently indoors as well as outdoors.
1.3 Dimensions and Weight
The size of the portable speakers, similar to their weight, depends heavily on their intended use. The shape is usually elongated and either round or rectangular. However, there are also other more exotic shapes, such as small, attractive cubes. The dimensions vary from a few centimeters to model sizes in the range of 30 centimeters and more. The weight starts at several hundred grams for small models but increases up to several kilograms for larger devices.
1.4 Battery Capacity
There are also significant differences in battery capacity between the cheaper devices and high-performance products. Since the batteries are basically permanently installed in all devices, it is not possible to replace and insert replacement batteries. Therefore, the battery life is very important. Information on this is always provided by manufacturers, whereby the test conditions should be strictly observed. Relatively low battery life is in the range of five to six hours, while excellent devices can provide well over a day's worth of battery life. The volume and type of music always play a decisive role.
1.5 Ports
Since the batteries cannot be replaced, the speakers are charged differently. Most models come with a simple cable, but sometimes also a station. Thus, the speakers have corresponding ports. In addition, there are often also USB ports which allow the use of a power bank or laptop for charging. Some models can also charge mobile phones by using the speakers as rechargeable batteries. There are also often AUX ports for audio cables that allow you to connect playback devices without Bluetooth.
2. Neat Additional Features
Since the simple playback of music via Bluetooth and wireless technology is no longer enough to make the devices stand out from the crowd, the developers have now installed several nice additional features that especially benefit customers.
2.1 Waterproof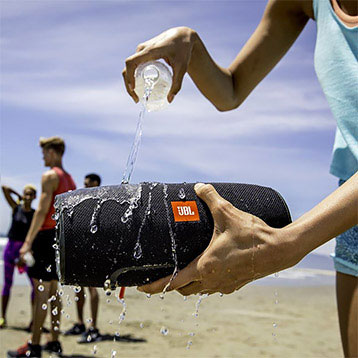 A first feature that makes the use of the devices more flexible and allows them to be used near water or in the rain is a waterproof housing. However, there are differences. Some devices are only protected against splash water, while others now offer great protection even when the devices are under water.
2.2 FM Radio
Although radios are becoming less and less important, especially among younger generations, there are Bluetooth speakers with built-in FM radios. This makes it possible to listen to radio stations that allow a free choice and other formats such as sports broadcasts.
2.3 Microphone and Speakerphone
Similar to radio functions, microphones and speakerphones provide opportunities that are normally taken over by other devices. For example, if it is not possible to install a new radio in an old car that can be connected to a mobile phone, you can use a mobile Bluetooth speaker. The microphone function can also be useful in other situations and is therefore built into some speakers.
2.4 Connectivity of Multiple Speakers
If a room is particularly large, individual speakers are not always sufficient. Linking several compatible devices is an additional function that provides a solution in such cases. Since the entire system should continue to operate wirelessly, the connection of such speakers is still done via Bluetooth.
2.5 Light Effects
A very nice feature of some devices is the use of special lighting effects, which are displayed on the surface of the speakers. They are not emitted light effects, but those that are displayed on the surface of the devices. Various colours are displayed in different variations and can often be adjusted to the music. There are also devices that resemble and imitate a disco ball.
2.6 Multiroom
The Multiroom function is an additional function that is not yet widely used in the classic Bluetooth speakers. This again results in the coupling of several devices, but in such a way that they are arranged over several rooms and have to overcome larger distances and certain obstacles for radio communication. In this case, it is less the Bluetooth that is used, but rather WiFi, as it is more suitable for such network functions. The speakers, which can be connected to such a system, then manage to provide sound to several rooms simultaneously and equally and usually still have Bluetooth connections.
2.7 NFC Compatibility
Bluetooth is a way of transmitting the data that is being played back, but there are other compatibilities with some speakers. This includes the NFC, which can also be found on newer smartphones. Since the transmission distance is considerably shorter, the advantage of such a technology is that the signal cannot be misused and the smartphone and speaker must always remain at a short distance from each other.
2.8 Control via App
An advantage of wireless speakers is the ease of use due to a few buttons and fast connections of the individual devices. The use of apps for control does not destroy this simple use but adds some practical functions to it. One of the options is to customize the sound by adjusting the individual soundtracks. There are also additional functions such as user administration.
2.9 Separate AUX Connection
Since there are still some older devices that do not have Bluetooth, they often provide an AUX connection. It can be connected with a jack cable to almost any playback device and replaces the Bluetooth at this moment. Thus, you still only need one cable for this kind of use, as battery operation is still possible.
3. Outdoor Protection Categories – IPX7, IP67 & Co.
Besides the protection against water, other influences can have an adverse effect on the speakers. These include dust and sand, for example. There is also often strong sunlight, which can heat up the surfaces of the devices. That is why there are different protection categories. These include the letters IP and up to two other numbers.
The first number is protection against foreign bodies and contact. The higher the number, the more resistant it is to particles. The same applies to the second number, with the difference that it applies to water protection. Consequently, the number eight offers the speakers complete protection against water.
4. Well-Known Manufacturers and Brands
4.1 JBL
A well-known and highly respected manufacturer of speakers, headphones and complete systems is JBL. The US company offers a wide range of Bluetooth speakers, ranging from small speakers to large portable speakers suitable for large rooms.
4.2 Bose
Another manufacturer from the United States with a long history and a good reputation is Bose. Their focus is also small speakers up to entire sound systems. In addition to the completely wireless devices, there are also stationary devices that simultaneously serve as radio and CD players and only require a power cable. A wide range of devices is designed for use with Bluetooth.
4.3 Teufel
Teufel is a German manufacturer of high-quality Bluetooth speakers. The mini systems are just as impressive as the larger systems. Here too, home use is provided for, as well as the flexible use on the road. Their particular fancy designs of the Bluetooth speakers are impressive.
4.4 Beats
Beats Electronics is a relatively young manufacturer that specializes in wireless products. The headphones are by far the best known, although their speakers are also convincing. Beats' devices are particularly impressive regarding design and packaging.
5. Frequently Asked Questions (FAQ)
What Is the Range of Bluetooth?
The range of Bluetooth varies with the different classes of wireless technology. The shortest and most energy-saving range is class 3, which achieves a transmission range of up to 10 meters. Class 2 can reach up to 50 meters, while class 1 can reach up to 100 meters. Additionally, the range of the speakers is often specified. It is essential to consider the range of both devices and not just the range of a single device.
Are Amazon Echo, Google Home and the Apple Homepod Suitable as Bluetooth Speakers?
The Amazon Echo model can be connected to Bluetooth devices via voice control. There are then two options: You can either play music directly or connect other speakers to the device. Google Home devices can only be paired with the latest models, and there are often limitations on the smartphone's operating system. However, the functions of the upcoming devices are to be continuously improved. The Apple Homepod system not only has the function of an intelligent system but is also intended to close the gap in Apple's range of products, as they only offer a few in-house speaker systems for the living room.
Is a Bluetooth Speaker Suitable for a Sound Bar Replacement?
Whether a Bluetooth speaker is an alternative to a sound bar depends on whether the speaker can actually be connected to the TV or another playback device of movies and series. However, the speakers are in fact a suitable replacement, since the use of a sound bar can often be traced back to the missing highs and lows of the TVs. These speakers can also provide the same, and even sound bars often use speakers that are no longer built-in.
What Protection Category Is Required for the Speaker to Be Waterproof?
The second number of the IP code used for electronic devices indicates the level of water protection. Numbers 1 and 2 are specified for dripping water and dripping water with a slight inclination of the device. Class 3 shows that the device is resistant to spray water depending on the angle. The classes 4-6 are responsible for different forms of spray water and offer all-around protection. A class 7 device can be held underwater for a short period. A device with class 8 or higher can be permanently placed under water, although this naturally affects the possibilities of playback with speakers.