Especially for the fashion-conscious, modern man, a magnificent beard and head of hair are a crucial accessory. Where else could individual characteristics, ideas and trends be realized, if not in the body area that stands for masculinity. The proper utensils for this are appropriate beard trimmers and hair clippers, which always ensure the necessary measure of order, style, and personality at home or on the move.
In the following guide, we would like to discuss the most critical features, characteristics and details of beard trimmers and provide the interested reader with a selection guide with which he can compare the products available on the market. Let's go!
1. Important Feature Details
1.1 Blades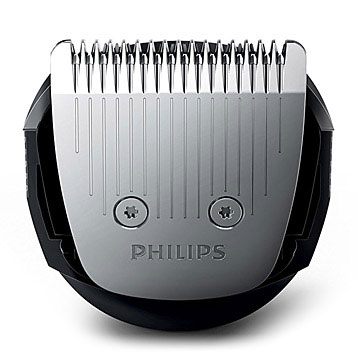 Every man knows that a clean, slender razor is the basis for a decent shave. The shearing blade is the equivalent of the hair and beard trimmer because length or contour settings are useless if the blade does not perform adequately.
The material of the blade is of primary importance for the consumer. More reasonably priced models rely on stainless steel blades, and it is essential to pay attention to the form in which these blades are accommodated. The finer the serrated pattern, the more precise the cuts will be, even in problematic areas.
If you are looking for something extremely durable and sturdy, you should raise the bar a little higher and choose models with blades made of ceramic or carbon-titanium (coating). They do not become dull as quickly as other materials and thus guarantee a long-lasting solid result.
In some cases, there are also beard trimmers and hair clippers with self-sharpening blades, which are mainly recommended for those who use the device daily – regular replacement is no longer necessary, and the usually more expensive model pays off in a very short time.
1.2 Length Adjustment
Anyone who grows a full beard knows about the problem of uneven beard growth. For the precise use of a beard trimmer, it requires an accurate length adjustment that can be carried out in small steps. The products available on the market either have a fixed integrated length adjustment or contain various comb attachments in cutting lengths up to usually 25 millimeters.
The first method includes a telescopic style so that it can be adjusted with a small wheel. The step spacings vary from manufacturer to manufacturer, usually between 0.8 mm and 2.2 mm in length. Many users will see decisive advantages in practice with the latter approach using a comb attachment for length adjustment. These consist of a slightly elastic, soft synthetic that is gentler on the skin and thus prevents irritations.
Important: The actual length specifications are falsified depending on the angle at which the devices are positioned. It can not necessarily be concluded from one device to another, which should be considered when replacing the razor.
1.3 Handling
Many people certainly prefer the simplicity of use in a beard trimmer or hair clipper. After all, only very few of us are hairdressers and in practice on a daily basis, and working "on yourself" is naturally connected to difficulties anyway. A first-class hair clipper is characterized by the fact that the haptic is perfect, i.e., the device lies well and firmly in hand with small and large hands. It should be noted here that the hands are usually wet or damp so that a certain abrasion resistance would make sense. This "grip" can be further enhanced by relying on models that are on a healthy average in terms of weight. If the device is too heavy, filigree work is often only insufficiently feasible – if the device is too light, it lacks the safety of a dead weight that can provide stability on skin surfaces.
1.4 Easy Cleaning
As already mentioned above, handles with sufficient grip have a decisive advantage. Not only are they easy to handle when "working" over the sink, but they are usually also water-repellent and therefore easier to clean. The same must be taken into account for other components, especially the blade. Many small, often greasy hair and stubbles get caught in the blade area over time – it becomes limited in its function and dull, which in turn requires regular, costly replacements if insufficient care is provided.
Make sure that cleaning utensils such as oils or brushes are included. After the appliance has been roughly shaken out, smaller, often hidden or stuck hairs can be easily removed with a cleaning brush. An appropriate oil ensures the functionality of the blade plates, as there is a risk of considerable wear due to increased vibrations. In this case, prevention is always better than aftercare, because the valuable component is the blade – check the manufacturer's website or the operating instructions to find out about the cleaning measures recommended for your model.
1.5 Power Supply and Battery Charging Time
The preselection as to whether models with or without power or battery operation are the better choice must be decided individually. If you are on the road regularly and often travel to countries where adapters are necessary, it is better to use a battery-operated hair or beard trimmer for practical reasons. However, this naturally also has an impact on the motor power, because mobility is not the only decisive factor here. As a rule, entry-level models are based solely on a power cable. Depending on the length and structure of the cable, this can be annoying in everyday life. Nowadays, however, practically all devices come with a combined battery and power connection, whereby it would be important to distinguish which type of battery is used.
High-quality beard trimmers and hair clippers allow battery operation based on Li-Ion batteries. They have a significantly higher number of charging cycles, which means that they can be used much longer and thus the service life should be considered when valuing the purchase price. It is also worth looking at the specified operating time – everything from 45 minutes is recommended because this usually allows several processes to be carried out entirely without any problems.
Another aspect is the charging time, especially when the device is needed while traveling. Well-rated devices usually are in the range of one hour per full charge, either based on a docking station or in mixed battery-powered operation – the particular advantage here is that, if necessary, further handling by cable is possible if the device dies prematurely.
2. What Is the Difference Between Hair Clippers and Beard Trimmers?
Hair clippers and beard trimmers are used to trim and shape beard and hair. And yet the market offers a wide variety of designations or combinations, whose differences are not always apparent. A hair clipper is primarily designed for hair, which is particularly in demand by men because attractive short hairstyles can be created in no time at all. The beard trimmer, on the other hand, is designed for facial hair, which requires a different concept because beard hair is different from the top hair.
A smaller cutting width combined with a more precise cutting length adjustment on beard trimmers makes these models particularly suitable for men who want to shape their beard. Hair clippers, on the other hand, have a more extensive length setting, the blades are less sharp and rather coarsely ground, which makes them more suitable for basic length gradations. However, this is not a disadvantage, because beard hair is different, often stronger, and thicker so that an exact result requires sharp blades.
If you are looking for combination devices with attachments for beard trimmers as well as hair clippers, you should compare the respective length dimensions and consider whether this is sufficient for hair and beard.
3. How to Successfully Cut Your Hair or Beard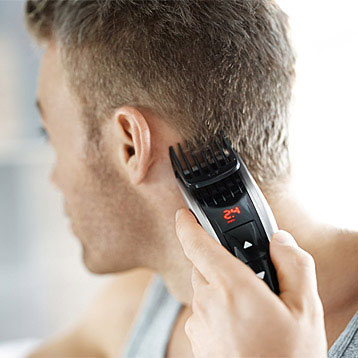 As already mentioned, handling is particularly important because you are working on your "own object" and must be able to reach even hard-to-reach places so that the device trims to the appropriate length here. The basic prerequisite for this is an ergonomic handle with a sturdy feel that ensures a secure hold.
When it comes to using the clipper correctly, the following should be observed:
A standard length is determined depending on the attachment, especially with shorter lengths it is essential to apply the pressure evenly at all points.
If you are still inexperienced or would like to estimate how much is actually trimmed, first choose a larger attachment and approach it step by step.
Principle: A clean cut is always successful when cutting against the direction of hair growth. Slow and even movements help to skillfully "work around" skin irregularities.
Since the attachments are shaped so that the hairs are positioned upright, it is recommended to always start from the bottom in the vertical position towards the top of the head. Areas such as the neck can be easily trimmed into shape with shorter attachments after the rough work has been done.
4. Well-Known Manufacturers
4.1 Remington
Remington is a pioneer in the field of razors because the US company launched the first battery-powered shaver as early as 1960 and over the decades has continued to develop essential innovations. The company's products are characterized by high power density, an attractive design, and a good price/performance ratio.
4.2 Braun
Braun is a traditional German company from Taunus, which has been part of the US giant Procter & Gamble for many years. For many years, the company's hair and beard trimmers have been characterized by an oscillating armature that operates through electromagnetic oscillations in step with the power frequency and thus enables a high-quality, skin-friendly shave.
4.3 Philips
Philips is a Dutch company that operates worldwide and is responsible for many of the product innovations that we now take for granted in our daily lives. As early as 1939, a product based on rotating blades was introduced with the introduction of the "Philishave" electric shaver. Today Philips continues to offer performance models for all needs, both for beginners and experienced users.
4.4 Panasonic
Panasonic is a Japanese electronics group based in Kadoma, Osaka Prefecture, and is best known for its handy, affordable products. The company offers a very good price/performance ratio.
5. The Correct Cleaning and Care
If you want to enjoy your beard trimmer or hair clipper for a long time, you should rely on regular care and cleaning right from the start. Through daily use, many small, knotted and rooted beard hairs collect in areas that allow the blade to wear out more quickly and thus practically provoke a replacement. Therefore, if possible, the shaver head should be removed regularly and cleaned and freed of buildup with a brush. Some models offer washable cutting heads that are easier to clean.
Useful are models that are completely washable so that they can also be used in the shower without any problems. Finally, it would make sense to obtain the appropriate care oil for your own product to protect the blade from excessive wear. Frequent oiling ensures a smooth interlocking of the clipping blade and motor without the whole thing becoming dull.
6. How to Properly Care for Your Beard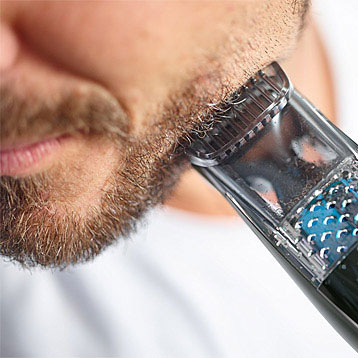 If you are lucky enough to have a quite symmetrical and even beard growth, you can set some accents. The beard does not necessarily have to be long and strong, because even with short beard styles you can emphasize your own personal touch. A well-made three-day beard is in no way inferior to a voluminous full beard.
In the following, we would like to list some tips to help you care for your beard and keep it in shape:
The contours, especially at the edges, should be regularly trimmed to the appropriate length. Individual hairs should be removed.
Beard hair dries out just as quickly as top hair, which is why a regular shampoo treatment is just the right thing to remove dirt deposits and maintain the shiny appearance of the beard.
You can use beard oil if you like. Alternatively, we recommend olive oil, which contains essential ingredients and helps to maintain the silky smoothness of the beard.
Don't forget that there is also facial skin underneath the beard, which has to withstand exertion and should not be neglected.
7. Frequently Asked Questions (FAQ)
Is It Necessary to Oil the Blades of Hair Clippers or Beard Trimmers?
Even models advertised as "self-caring" or "self-sharpening" will wear out over time. This is why you should at least use the supplied brush after each application because small stubbles can easily get stuck. Regular oiling is elementary, the manufacturer recommends certain lubricating oils, depending on the material. This ensures the interlocking of wearing parts, prevents the accumulation of dirt residues and will maintain the device for a long time.
How Long Is a Typical 3-Day Beard?
A 3-day beard is typically between 0.5 mm and 4 mm, depending on beard wearer and growth. However, it is still considered a 3-day beard if an even beard growth becomes visible and still has enough room to have a well-groomed effect.
Is It Possible to Trim Animal Fur With the Hair Clipper?
For hygienic reasons, it is recommended to use special animal clippers, which also have suitable attachment sizes available.